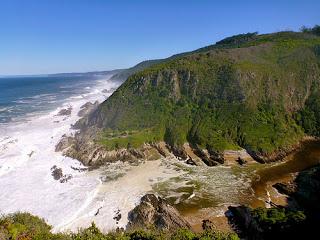 No one hikes more unique and unusual trails that Rick McCharles, the writer of the always interesting Best Hike Blog. When he isn't busy coaching gymnastics in some bustling gym, Rick can usually be found backpacking his way along hiking routes in all kinds of remote corners of the globe. His most recent journey took him to South Africa to walk the Otter Trail, a route he tells me is spectacularly beautiful, little known in the West and celebrating its 50th anniversary this year.
The Otter Trail stretches for 41 km (25 miles) along South Africa's popular Garden Route. The OT seldom ventures far from the breathtaking coast but it does wander through some rough terrain, climbing up and down rocky shorelines as it meanders across a spectacular region in a country that is filled with amazing locales. It generally takes about five days to hike the trail and there are comfortable huts situated along its length, making it easy find shelter at the end of the day.
Rick is now sharing that experience with readers kicking off his blog coverage with his first Otter Trail post today. Over the next five days he'll continue adding his thoughts on the experience, including some amazing photos of the things that he saw along the way. Today we start with Day 0, during which he shares some thoughts on just getting to the start of the hike. Starting tomorrow, we'll actually get into the trek itself.
What I always love about Rick's writing at Best Hike is that he does an excellent job of introducing us to long distance trails that many of us probably didn't even know existed. Through his well chosen words and beautiful photos, he also has a knack for inspiring us to follow in his footsteps. I have no doubt that his Otter Trail reports will continue that tradition.