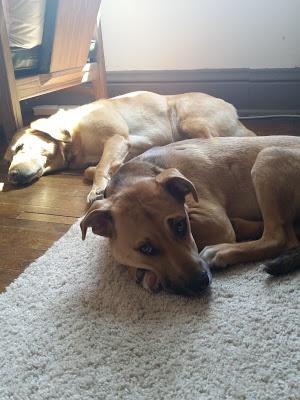 It's crazy how so much can change in a week. Last weekend I was busy shoveling two feet of snow during a rare spring blizzard while trying to get acquainted with our new puppy, Jake. This weekend I'm leisurely baking homemade dog treats with a delicious breeze blowing in the open kitchen window while singing along to music with my dogs sleeping together in the sunspot by the oven.
Pure bliss.
This has definitely been a week of ups and downs. Jake is bringing so much joy to our lives and watching Charlie taking on a "big sister" role makes me beam with pride. She's having just as much fun wrestling and playing with Jake as we are watching them.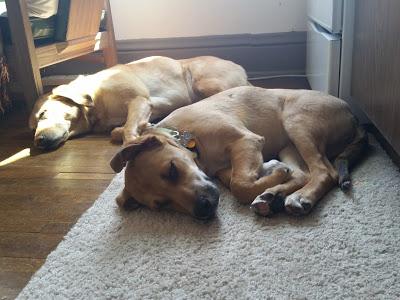 Jake and Charlie got to spend the entire day yesterday with their daddy, Alan, since he had the day off work. They did "guy stuff" and spent a lot of the day outside playing. When I joined them after work, I could tell they were pretty tired out but not willing to give in and go to sleep. Luckily, they're napping today so I can get some stuff done in the kitchen.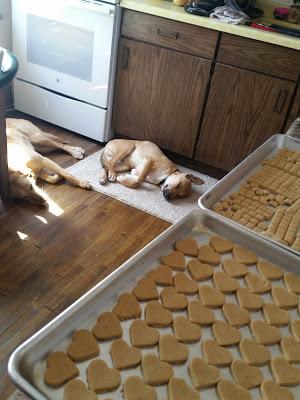 Baking dog treats with sleepy "kitchen helpers."
I've also been dealing with a lot of sad news from co-workers and relatives this past week. My aunt died of cancer, my step-niece's best friend and entire family died in a car accident, a co-worker was given terrible news about his remaining life expectancy after battling cancer for a long time and another co-worker is going in for a double mastectomy next week.
It really brings things into perspective watching others deal with tragic and life-changing events. It also brings back feelings of missing my dad who died of cancer a few years ago. I miss him every day and probably always will.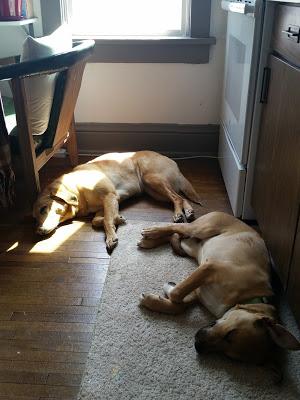 But being surrounded by this grief and sadness doesn't change the fact that I'm truly happy right now and things are going so well for me. It makes me more grateful for how wonderful and full of love my life is.
And I'm sending my loving energy back out into the world and hoping it finds people who need a lift. We're all connected in ways we're not even aware of and whatever small kindness you can give another, could mean the world to them.
And someday that kindness will come back to you in your own time of need.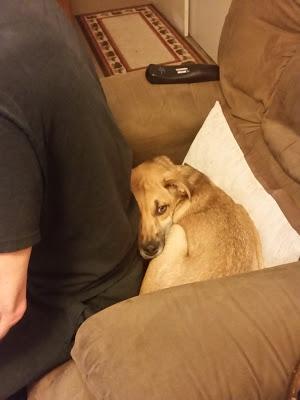 Jake is a "chair thief."