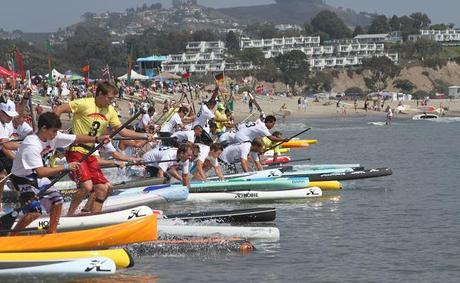 As I've mentioned before, stand-up paddling continues to grow in popularity, with more and more outdoor enthusiasts joining in on the action all the time. The sport has grown to the point that there are now major SUP competitions taking place on a regular basis, with one of the bigger ones, the
Battle of the Paddle
, taking place in California this past weekend.
The event is a race in which the stand-up paddlers take to the water, catch a bit of surf, and use their paddles to power their way through a simple course which includes making some turns around floating buoys. There were a couple of qualifying heats before the real competition got underway, and in the end it came down to a neck and neck fight between a trio of top competitors, with 17-year old Conner Baxter of Hawaii claiming the victory in the men's division. For the ladies, it was Candice Appleby who crossed the finish line first, putting a considerable distance between herself and her closest competitors.
SUP Connect
, a website dedicated to stand-up paddling, has more details on the event, which you can read by clicking here. The video below also gives good insights into the race and the men and women who competed in it.
I have yet to give SUP a try, although I see people doing it on a regular basis here in Austin. Anyone tried it yet? Are you a convert?