Aug 10, 2012 by Tatianna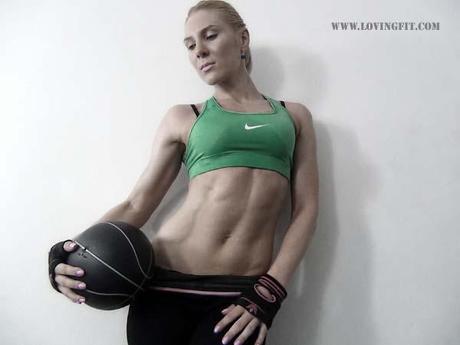 Hello My Lovies!
First things firs, how is " Sharper Abs In A Month Challenge " going? Please share your thoughts and how you have been doing with it. I noticed some of you guys have been saying that it hurts your hands, that is normal because you are building the hands of an athlete

. Stick with it and you will thank me later!  It's also not as easy for me as you think, I struggled with it the second time a lot, and tomorrow is going to be my 3rd time this week, I'm not looking forward to it but I know when I'm done I will feel like a billion bucks!
Today I have an amazing butt burning lower body workout. On video it doesn't look like it's that hard, but trust me this one is comes with a punch! I was gasping for air the whole time, it was definitely High Intensity Interval Training, but the best part it's under 20 minutes.
Please Please Please don't forget your warm-up, you need to prepare your self for this bad boy. Practice good form before you begin, I cannot stress that enough, I promise you that soon you will develop a " Good Form Fetish " and when you will see bad form it will burn your eyes, just like it's always happens to me ( some of you already have that fetish, thanks for making me proud

). I just can't stand poor form in exercise, like I said before it makes me turn into the Exorcist girl.
Now, where was I … Good Form … Good Form … Good Form … Ok let's get to the workout.
Make sure to watch workout recap and beginners variations after the workout.
Workout Explanation
This workout is HIIT and it will take you less then 20 minutes to complete. All I used in this workout was my 12 lbs medicine ball, my Gymboss timer, and my mean looking 20 lbs dumbbell.
Set your timer for 2 intervals, 7 seconds ( rest interval ) and 48 seconds ( max effort ). If you are a beginner, I recommend you making your rest much longer, like 15-20 seconds.
You will go through following sequence for the total of 3 rounds.
2 Jump Lunge & One Leg Squat Combo – Right Leg
2Jump Lunge & One Leg Squat Combo – Left Leg
2 Pulse Back Lunge Kick Up – Right Leg
2 Pulse Back Lunge Kick Up – Left Leg
Reversed Crab ( a recovery and core exercise )
Side Jump Lunge with a Medicine Ball ( don't rush, pause at the end of each lunge )
Dumbbell Swing ( or what ever weight you have )
My scores:
1) 5, 5, 4
2) 5, 4, 5
3) 14, 13, 13
4) 13, 13, 12
5) 19, 18, 17
6) 21, 18, 18
7) 23, 20, 18
Have fun with your training!
Hugs,
Tati