This is a walk I planned with a mate I met through the Bushwalking Wilderness Rescue Squad. Fraser is one of many keen outdoors people I've met through the squad in the short time I've been involved.



We planned the walk over a few months for late January this year. The original concept was to walk the AAWT from Thredbo back to the ACT. We allowed for a bit of variation on the route and gave ourselves 12 days for the trip. This made things a bit easier when we actually went out and did it. We headed out on Saturday the 28th by car from Canberra and left a food drop at Kiandra. I strung a waterproof food bag up from a tree which saved us carrying a fair bit of wieght in the pack and probably cost us about two hours travel and mucking around. After a stop off at one of my favorite bakeries at Nuggets Crossing my dad finally dropped us off at Dead Horse Gap and headed back to Canberra around 4pm.
 On that afternoon we walked up the spur towards Ram's Head. We reached the flat saddle part way up but it was still early and Fraser was eager to push on. We went up past the first trig and on to Ram's Head. On the saddle leading to North Rams Head we saw a bunch of Red Dear. There were about eight to ten in total, the bucks dark in color with large antlers and sandy colored does. It rained as we passed the final peak on the range and headed down past some wild horses to Cootapatumba Hut for the night.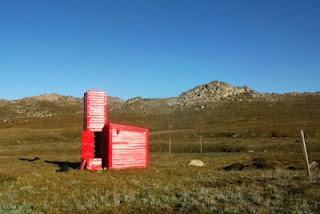 On sunday morning we headed up the valley towards Etheridge Gap passing some campers only just below Lake Cootapatumba. Taking the boardwalk to Rawson pass we had a quick break and the went up to the summit of Kosciusco. Fraser met a pretty South African girl up at the summit but despite our best efforts she decided not to keep us company on our journey. We pressed on and after a brief walk, ditched our packs and climbed Mt Townsend. After finding our packs again and a bit of lunch it was along the track to Mt Twynam, then Mt Tate and onto the Rolling Grounds. It was getting pretty late by the time we made it down to Whites River Hut and almost dark when we rolled into the Schlink Hilton at 9pm. Massive Day. I had aching feet and an old ankle injury kept me up part of the night. Fraser was doing pretty well. His pre trip training was paying off.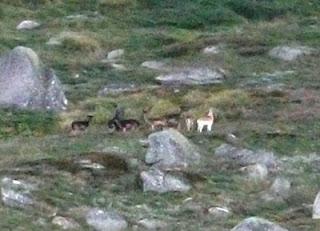 Day 3 saw us waking up to heavy horizontal rain and blowing a gale. Fortunately we were warm and cosy in the Hilton and it was all through the window. The creek was almost bursting it's banks. A very wet and bunch of bushwalkers cam in to the hut mid morning after spending the night up at Gungartan. They said it was pretty horrible. I didn't even realize the weather overnight was bad. The tin roof at Schlink is well insulated and the rain made no noise. I was still stiff and sore from the night before so we mooched over to Valentines in the ruddy weather around 12.30. After a very hardcore two hour stroll we settled in at Valentines for a hot dinner. Weather stayed miserable all day but Valentines Creek was less exposed than at Schlink.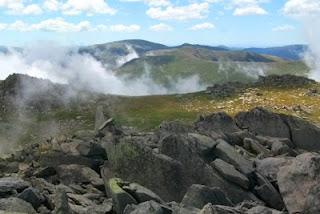 On tuesday morning we decided to head over to Mawson's Hut. I accidently added the variance on my compass rather than subtracting and so we headed a bit high up the kerries range. Whoops!. We were out by about two k's by the time we once again found Valentine's Creek. On the upside there is a beautiful curving cascade a few clicks above Mawson's Hut. The weather was amazing so we hung around Mawson's for the day. Fraser broke out the fly rod. He got onto a big rainbow in the arvo but borke his tippet. "The one that got away." I managed to fall in the creek and kill my camera.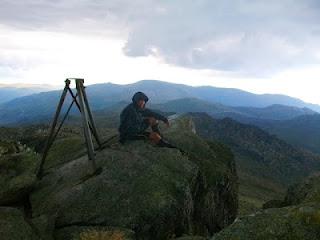 We woke up on day five in fog and headed out around 10pm towards Jagungal. The day before we anticipated this leg to be easy but in the fog it was a bit tricky. We walked alongside the Toolong Range but had a bit of trouble identifying the broad slopes higher up and eventually pulled out the GPS and cut a bearing towards the rocky knoll beside Jagungal. I once again buggered up the nav and impressed Fraser by accidently turning my compass upside down and heading back down hill in the fog. The excuse "It's a new compass" didn't really save me from embarrasment and we headed up to the summit. The clouds parted at the peak just enough to see our immediate surroundings. We took a bunch of photos and soaked up the experience.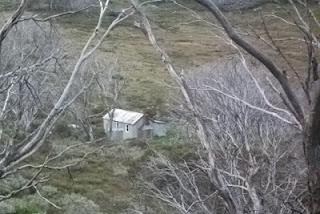 We headed down the far side of Jagungal towards the weather station. We took the ridge down from the rocky outcrop but in hindsight I would take the steep direct route from the summit next time. It would be less scrubby. We stopped in at Okeefe's Hut and then bashed along the firetrail to Mackays Hut. The hut is currently under repair and so after speaking to Gary from parks for a bit we set up camp.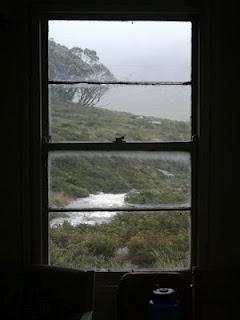 We left Mackays at 8.30am and headed along the firetrails towards Kiandra. We stopped in at Happy's Hut and after agreeing to go all the way to Kiandra and our food drop, ate a hot lunch consisting of leftover dinner rations. After a nice rest and good food we headed straight up a ridge through light scrub and onto the tabletop trail. A little way along we scooted up onto the summit of Tabletop which was well worth it for the view. Down the other side and on past the turnoff to Four Mile Hut saw us into Kiandra around 8pm, not forgetting our food drop as well. We bivvied on the veranda of the hut on the road. Fraser had been having dramas with his feet for a couple of days and decided to pull the pin, arranging a lift from Kiandra to Sydney the following morning. We sat on the verandah and ate a massive feast including food drop goodies and spare meals.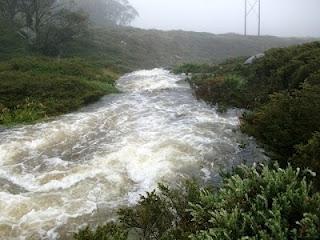 Day seven and I headed off leaving Fraser to fish the Eucembene until his lift arrived. I waded the creek and headed into the gums of Wild Horse Plane and past Witses Hut. On a broad plane furthe along I encountered a very large stallion with a young mare. The stallion charged at me across the plane and after realising I was to exposed to run away, I stood my ground and franticly did star jumps until he pulled up short. I the nervously traversed the plain with the large hose trailing me angrilly for the following ten minutes, all the while the mare jumping and turning in discomfort. It was all a bit tense.
 It took me a while to reach the Murrimbidgee River but by mid afternoon a quick crossing saw me up towards long plain. It wasn't too clear after the crossing which track to follow and I wandered from horse track to horse track in light rain heading in roughly the right direction. I made it to the Port Phillib Fire Trail fairly cold and miserable. Luckily it wasn't much of a trek from there to Hainsworth Hut which I made around 6pm. Hit the sack by 9pm.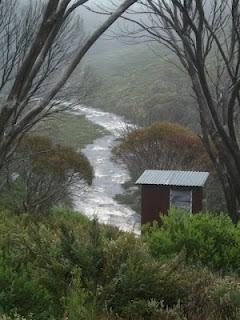 Day eight was a bit more interesting. I woke up at 1am and after a long breakfast headed out onto long plain about 3am. After trudging for about half an hour I stirred up a whole bunch of horses which began snorting and charging around in the darkness. After being bullied by a pissed off horse the day before, this certainly wore on my nerves. I pressed on a bit longer along the trail I once again stirred up a mob which thundered off into the distance. Another 200 metres or so and I startled one only a couple of metres away, apparently sleeping by the track. At this point rather frazzled I decided to have a nap for an hour under a tree and wait until dawn.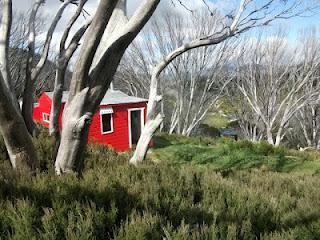 At 5am  there was enough of a glow and I was bored enough to press on. As I headed off I startled something that was hanging around in the bushes which scurried off into the darkness. I walked on as things got a bit lighter I enjoyed the waking morning. Once again I heard a horse snoring amongst the trees and then thunder off but this time I felt amusement rather than nerves. I passed the Coolamine Homestead and a couple of wild dogs before heading into a bank of cloud. I wondered through the fog through increasingly tall forrests getting closer to home. I missed the turnoff to Pockets Hut and headed straight to Oldfields. On the way picked up phone reception above the aquaduct vent and rang home.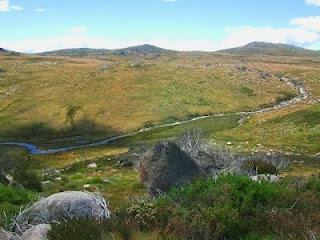 I had lunch at Oldfields and then headed up to Murrays Gap.Up on top I ran into a group from the Canberra Bushwalkers numbering eight or so and another two blokes up for a quiet weekend. In the beautiful hike from the main range I had only seen two walkers and now in one spot I had just ran into ten. The walk down from Murrays Gap was steep and I wondered how I'd managed to ascend it so easily on a previous trip. The walk from Cotter Hut to Cotter Gap on single track throught the scrub was a bit of a highlight and the camp at the top would be good for an overnighter from Orroral Valley. I trudged down form Cotter Gap into the Orroral Valley pretty damn tired and was passed by some Canberra Bushwalkers who were coming down from a day walk.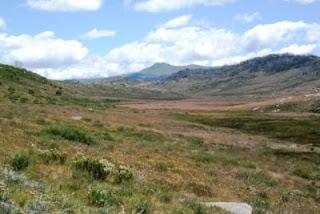 I was expecting to catch a lift from the valley in the morning but thanks to John, Rob, Kieth and Jaqueline I headed out of Orroral Valley by car around 8.30 and was home for a late dinner. I considered pushing on to the visitor center at Tharwa but I'd walked around 60 k's on the day and decided that spending sunday on the couch would be a better option.
Edit: I've included a rough sketch of some of the off track sections of the walk as requested in the comments. Clicking on the picture should allow it to expand to near original size. Most of the trip was on the AAWT firetrails so just the one scan will do. My rendition of the route may be a little inacurate too. The 1:100,000 map of Kosci isn't clear enough. For the section up to Jagungal we stayed in the gully to the east of Toolong Range almost all the way to the top (if that helps). We walked this section in fog and used a 1:25,000 and a GPS once or twice. Reference to Chapman's AAWT guidebook makes the whole thing easy.