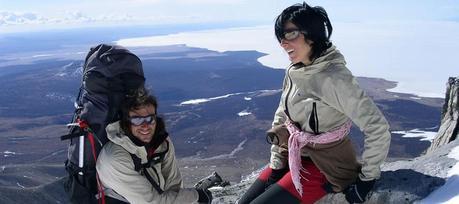 Last November, I told you about a unique expedition that was scheduled to take place early this year. Explorers Bert Poffé and Kiki Nárdiz, who had learned their survival skills while living amongst the Atikamekw people, a First Nations tribe from northern Quebec, will travel on foot into one of the coldest inhabited regions on the planet in a quest to visit their old friends.
Bert and Kiki will put their survival skills to the test over a three week period in February as they trek unsupported into the remote region that the Atikamekw still call their home. They'll use traditional tribal skills to make their way through the frozen wilderness, where they'll employ traditional mukluks, babiche snowshoes and handcrafted wood toboggans.
The duo will travel for approximately 20 days, visiting Atikamew villages along the way. On the expedition, they hope to explore traditional methods of winter travel, while learning more about the history and culture of the people that inhabit that harsh and demanding environment. They also hope to promote sustainable adventure tourism to the region while also inspiring others to get outside and pursue their own passions.
The expedition is set to begin in early February, which means we're now just a few weeks away from the start of this adventure. Find out more about Bert and Kiki, as well as their plans on their official website.