by Victor Dubin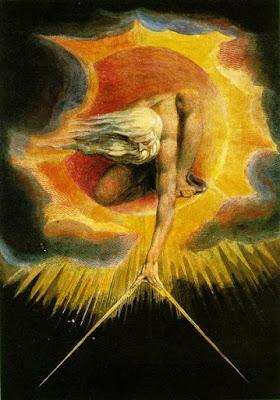 The Ancient of Days by William Blake
The yama
arjava
is sometimes translated as rectitude and is also translated as integrity. To me, integrity seems a more accessible and less severe term for a yama that can we can practice.
I originally learned of
arjava
in Georg Feurstein's
Encyclopedic Dictionary of Yoga
in his discussion of yamas: 
"...the Tri-Shikhi-Brahmana-Upanishad (II.32) mentions the following: non-harming, truthfulness, nonstealing, chastity, sympathy (daya), rectitude (arjava), patience (kshama), steadfastness (dhriti), moderate diet (mita-ahara), and cleanliness (shauca). This series is repeated in several other Yoga-Upanishads." 
The idea of expanding the field of yama and niyama practice appealed to my sense of the broader ethical implications of a practice of yoga and, particularly, a practice dedicated to integrity.
In my opinion, integrity is essential to all practitioners of yoga because it creates a foundation of deep honesty upon which a practice can best be built. It is a cornerstone of any practice of yoga, whether it includes postures, breathing, meditation, or any other yoga practices. Your integrity is expressed in the way that you, as one who practices yoga, honor your commitments to yourself, take time to be considerate of your actions, and represent your practice outwardly.
When you make a commitment to practice, each time you honor that commitment you are practicing arjava. Instead of practicing "when you feel like it," I recommend setting a schedule and sticking to it. Feel free to put a sunset on the schedule (I like to set mine in 6 month increments, but you can choose a longer or shorter term if that is what works for you) so that you can reevaluate how things are going and if changes need to be made so that you can better meet your intentions with integrity.
This commitment to practice need not be rigid. In fact it will have more integrity if you are more honest about your needs in the moment. In other words, while you are broadly setting a schedule to which you are dedicated, what you do within the confines of that dedication need not be a rote routine.
Let's say you decide that you are going to practice yoga postures for 20 minutes every Tuesday, Thursday, and Saturday. You have a set of postures you enjoy or have learned that you plan to do and then you actually do this for several weeks regularly. If 7 or 8 weeks down the road you sprain an ankle tripping on the sidewalk, you have still made a commitment to practice. But in order to honor your commitment and practice arjava, there is no need to do the exact same postures that you were doing before the injury. In fact, still practicing, but modifying your practice to best support your health is a definition of integrity. This can be applied to your practice on a day-to-day and moment-to-moment basis as well. Showing up for the practice is the practice. Honoring the needs of the moment to best reduce suffering and promote healing is the practice.
You will likely find that the integrity with which you engage in your practice of yoga or applied to other parts of your life will have an effect beyond you and your mat. Like my daughter and her school, others are always affected by your actions.
Integrity is also relevant to yoga teachers. Little undermines the legitimacy of a teaching than a teacher who says one thing, but does another. T.K.V. Desikachar wrote in his book Health, Healing and Beyond, "A teacher of Yoga should live a life of Yoga – to practice what is taught." In essence, if you are a teacher be mindful of what you say and do in and out of the classroom, be conscious of the expectations you place on others, and be attentive to the way that your words reflect your actions.
Finally, integrity is pertinent to the administration of yoga studios. Yoga studios and studio owners would be well advised to have clear communication regarding expectations of teachers and students. Written policies and practices are best, but even verbal communication is preferred to a total lack of clarity when it comes to things like how and when people pay, expiration dates, teaching ethics, teacher changes, class cancellations, and a host of other issues that arise at yoga studios.
When I was preparing to write this piece I asked my 14-year old daughter, "What are your thoughts on integrity?" She replied, "It just makes me mad." Her response surprised me so I asked, "Why?" She told me that "integrity" is one of what her middle school calls "essentials", a school-wide principle that she has been made to hear about over the past few years. Then our conversation ended abruptly, as is not unusual for a conversation with a teenager, and she was off to another activity.
I took time to consider why she might feel this way and it was pretty clear that what makes her mad is not that integrity is an espoused value of her school, but that it is not being practiced. In her experience teachers are very often not living up to their word and/or responsibilities and the administration has abdicated some of its responsibilities to students. As a specific example, a few months ago when students across the United States walked out of classes as a peaceful protest against gun violence in schools, her school took no proactive position. To be clear, she would have been upset if the school administration stood in opposition to student protest, but she would not have been frustrated with a lack of clarity. What the administration did in this case was to take no position on the health and welfare of students who attend the school, and in my daughter's eyes this was not in alignment with the principle of integrity that the school claims to promote.
Yoga teachers often talk about and practitioners often give consideration to the idea of "alignment." The alignment we most often examine is a physical one, the relationships of muscles, bones, and other physical structures to one another. These are worthy considerations that I support. But I further suggest we take more of our yoga practice time and time in our lives in general to evaluate the alignment of our stated goals with our actions and espoused principles with our practices. In this way we will practice and likely become more skilled at arjava and find the peace that flows from practicing and living with integrity.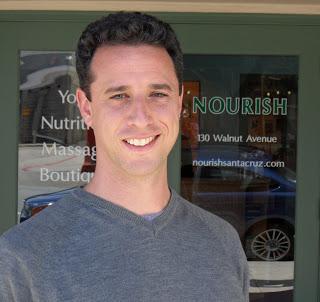 Victor Dubin, ERYT 500 has been teaching yoga in Santa Cruz, California since 1996. He is a teacher at and co-owner of the wellness center NOURISH. Victor believes that "yoga is not about attempting to fit people into particular models of practice, but creating space for people to discover themselves."
Victor is the director of and primary yoga instructor for the NOURISH Yoga Teacher Training Program. He develops and teaches classes in anatomy, physiology, in-depth posture exploration, meditation, philosophy, and history. He also teaches How to Teach Yoga and guides student teachers in the art and science of class development and instruction. Victor teaches for the ViraVinyasa Yoga Teacher Training in Tulsa, OK and other workshops.
Class Schedule at mindbodyonline.comUpcoming Workshops at mindbodyonline.comFacebook: victordubin
Instagram: @victordubinSubscribe to Yoga for Healthy Aging by Email ° Follow Yoga for Healthy Aging on Facebook and Twitter ° To order Yoga for Healthy Aging: A Guide to Lifelong Well-Being, go to Amazon, Shambhala, Indie Boundor your local bookstore.