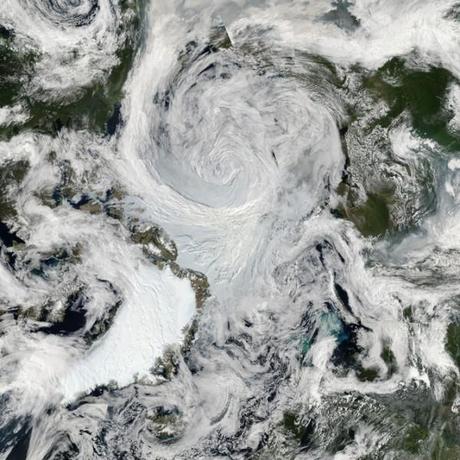 It has been a very long and tough week for the Arctic Row team. The four-man crew set out a few weeks back in an effort to cross the Arctic Ocean in a rowboat starting at Inuvik, Canada and ending in Providenya, Russia, a distance of about 1300 miles (2092km) that was expected to take 30 days to complete. Now 21 days into the voyage and they aren't even close to wrapping up the trip, thanks in now small part to a massive storm that has hit the arctic and halted progress for the past week.
Early on in the row the team was surprised to find not only good weather but clear water conditions as well. Few icebergs were spotted and winds were calm with warmer than expected temperatures. This allowed them to cover solid mileage as they continued to row non-stop, 24-hours per day in two hour shifts. That pattern allowed them to cross the half-way point of their journey on the first of August, which put them slightly behind schedule but still making good time.
That all changed when they started to hit heavy winds last Friday. Progress slowed to a crawl and levels of exhaustion quickly increased. Those winds eventually started to hit sustained speeds of 45 mph (72 kph), which not only made the seas choppy but also made it nearly impossible to keep moving forward. Then it started to rain. A cold, hard rain that wasn't very conducive for spending long hours behind the oars.
With conditions so poor, the boys decided to seek shelter in a protected lagoon not far from Barrow, Alaska. They managed to limp into the relatively calm waters and drop anchor, and unfortunately they were stuck there until today when they took to the oars once again just to move five miles towards Point Barrow in order to be in position to resume their journey once the storm lets up once and for all. For now though, they continue to wait for improvement.
This massive storm is very unusual for this time of year. Typically July and August are the calmest months of the year in the Arctic Ocean, which is why that is the period of time that these kinds of adventures take place there. A storm of this size and intensity doesn't tent to form in the warmer months, but then again judging from how bad the weather was in the Karakoram this season, I'm beginning to think that all bets are off in terms of long term forecasts.
Hopefully the weather will improve and the crew can continue forward again soon. I'm sure they're well supplied with food and gear, but they still have a long way to go until they're done. Keep your fingers crossed they get through this and get back underway shortly.