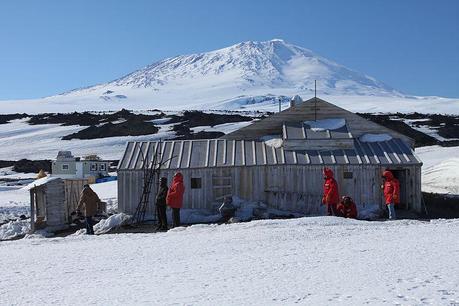 A few days back I posted that the 2013 Antarctic season had officially begun with the first team departing Punta Arenas, Chile for the frozen continent. That team consists of veteran explorers Ben Saunders and Tarka L'Herpiniere who collectively make up the Scott Expedition. Over the next couple of months, the two men will attempt to complete the route used by Robert Falcon Scott on his way to the South Pole back in 1912. Scott himself was unable to finish that expedition, perishing on the return trip after discovering rival Roald Amundsen had beaten him to the Pole by a matter of weeks. Ben and Tarka will make that journey in a self-supported fashion as they look to finish what Scott started.
The team flew out of Punta Arenas on Monday and were shuttled to the Union Glacier camp for the first stage of their journey. They then spent a couple of days getting organized, prepping their gear and acclimatizing to the Antarctica. Yesterday they again boarded a plane and were taken to the Ross Ice Shelf, where they are now en route to the Scott Terra Nova Hut, the famous launching point for Scott's expedition. Even though it was built more than a century ago, the hut remains an important landmark on the continent.
When they were dropped off on the ice yesterday, the two men had to ski 32 km (20 miles) just to get to their starting point. They are expected to arrive there today and will likely take a brief rest before they start the real meat of the expedition. Once they're ready, they'll then begin moving south, pulling their heavily loaded sleds behind them as they set off across the Antarctic at last.
Once they're underway, Ben and Tarka expect to make daily – or at least frequent – updates from the field. In fact, as I write this they are a bit over due for their first check-in from the hut. Hopefully that update will come soon and we'll be able to follow them closely over the coming week. You can read those dispatches on the team's blog page.
In the days ahead I'll be following the progress of this expedition very closely. Expect to read about it regularly on the Adventure Blog. Other teams will soon join Ben and Tarka out on the ice, but for now most them look like they're a couple of weeks off yet. Since the lads are making a return trip from the Pole, they had to get a jump on the season. They'll also likely endure worse conditions in the early going.
Such is the life of an Antarctic explorer. Best of luck boys!