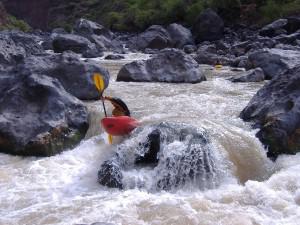 While we're on the subject of South America and The Amazon today, it appears that another major paddling expedition is about to hit the water there. Texan West Hansen will soon be attempting to become the first and fastest person to paddle the entire length of the Amazon River, source-to-sea, completely solo and in record time. He calls this expedition The Amazon Express and if all goes according to plan, he'll be getting under way in a matter of days.
Hansen will begin the journey at the headwaters of the Amazon, which start in the Peruvian Andes on Mount Mismi, which gives birth to the Apurimac River, one of the tributaries that helps form the mighty Amazon itself. In those early days he'll be navigating dangerous Class III-VI+ rapids as he descends through Black Canyon and the legendary Acobamba Abyss, one of the most difficult sections of white water anywhere in the world.
That section of the journey will cover approximately 425 miles (684km) before the water begins to even out and slow down dramatically. From there, it is another 3800 miles (6115km) to the sea, all of which West intends to run as quickly as possible, going night and day to the finish line to the best of his ability. All told, the entire expedition will cover 4425 miles (7121km).
West is currently in South America and preparing to start his epic paddle. He has secured his visas and is in the final stages of getting his gear and supplies ready. He'll have a support boat that will resupply him along the way, but he'll be doing all of the paddling completely alone. If all goes as planned, he should hit the water as early as next week.
It should be noted, and Hansen acknowledges this himself, this isn't the first kayaking expedition to run the Amazon. His "firsts" include doing it solo and fast. Seems like it's going to be one hell of a journey and I wish him the best of luck, and not just because he lives in Austin, my place of residence. This will definitely be one amazing adventure.
Follow along at TheAmazonExpress2012.com.