by Nina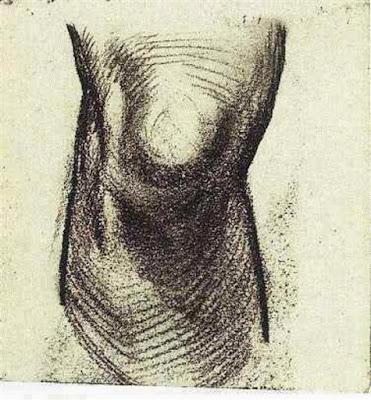 Sketch of a Knee by Vincent van Gogh
Your knees are rather simple joints. Unlike your shoulder and hip joints, your knee joints can only move in two ways: bending (which is called flexion) and straightening (which is called extension). But they are also some of the most vulnerable joints in your body, probably due to constant weight bearing. Knee pain is very common, and knee replacement surgery is becoming more and more frequent (though it is not always effective—see Do You Really Need Knee Replacement Surgery?). There are also some interesting variations in knee anatomy, such as knock-knees and bowlegs, that can affect knee health. That's why we've written so much about the knees over the years. 
Let's start today by looking at what we have on preventing knee problems and follow that up with the information we have about what you can do if you do develop a problem (or need knee replacement surgery).  
Preventing Problems 
If you want to prevent knee problems from developing, it's a good idea to customize your practice based on your knee anatomy. The following articles describe common variations in knee structure that can contribute to future problems, and offer ways to practice to keep your knees healthy for each condition:
Hyperextension of the Knees and Yoga
Bowlegs, Doctor Who, and Yoga
Knock-Knees, Lady Gaga, and Yoga
For all these people as well as those who have regular old knees, our lower body strength practice Featured Sequence: Lower Body Strength will also help prevent knee problems by keeping the muscles around your knees strong and supportive. Our lower body flexibility practice Featured Sequence: Lower Body Flexibility will help keep your knee joints healthy by moving your joints in their range of motion and keeping the joints nourished.  
Addressing Problems 
If you do develop problems, such as arthritis of the knees, or even need knee replacement surgery, the following articles have lots of information about how yoga can help. 
If you have knee arthritis but are not ready for surgery and/or don't want to rush into it, read these articles for ideas:  
Arthritis of the Knee and Yoga
Do You Really Need Knee Replacement Surgery?
Delaying Joint Replacement Surgery 
If you and your doctor have decided that now is the right time for knee replacement surgery, read these articles to help you prepare for and recover from the surgery"

Knee Replacements and Yoga
Preparing for Knee Replacment Surgery
Friday Q&A: Pain After Total Knee Replacment, Part 1
Friday Q&A: Pain After Total Knee Replacment, Part 2
If you have a meniscal tear, see: 
Yoga and Pain Management
Friday Q&A: Swollen Knees and Meiscus Tears
If you any type of knee injury, see: Acute Orthopedic Injuries  
Conclusion 
If you're concerned about knee health, this should get you started! If we've left out something important, let us know and we'll address it soon. 
Subscribe to Yoga for Healthy Aging by Email ° Follow Yoga for Healthy Aging on Facebook ° Join this site with Google Friend Connect