by Baxter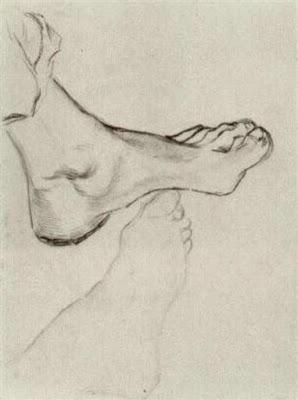 Feet by Vincent van Gogh
One of the most frequent requests that I receive from our readers is for information about conditions related to the feet, and one of your all-time favorite posts is one I did about bunions. And the importance of healthy feet really came home for me when I read Atul Gawande's powerful book on issues of aging Being Mortal, and I noted the emphasis gerontologists place on assessing foot health in the older patients as a predictor of future function. 
On a personal level, I have noticed as I am getting older that the health of my feet is vitally important for independence and my continued participation in activities that are important to me, including my asana practice, my new-found love of tennis, desire to travel, and walking and hiking. In fact, over the past few months, I have experienced an unusual periodic tender swelling around the ball of my right foot that lingers for up to a week and definitely interferes with my regular activities when it shows up. Fortunately—even though I am not yet clear on why—a modified approach to my asana practice including practicing non-weight bearing poses and lots of Legs Up the Wall pose seems to help resolve my symptoms. 
A 2014 survey by the American Podiatric Medical Association of 1000 adults aged 18 and older noted that 77 percent had experienced foot pain. And as people age, there is an increase in complaints of foot pain! 

The presence of foot pain is also associated with an increase chance of indoor falls in older adults, and a

2011 Australian study

showed that a foot care program, consisting of foot exercises, inexpensive orthotics, and shoe advice, reduced falls in older adults with foot pain by 36% over a one year period. So, addressing various causes of foot pain with yoga could not only decrease pain and improve function, but could hopefully even reduce falls due to foot pain. 
After receiving yet another inquiry recently on a condition of the feet (see Friday Q&A: Sesamoiditis and Yoga), I was curious to review the past posts we have done here on the feet and consolidate them so our readers would have a single place you could refer to when searching for foot-related information on the blog. I hope this will be useful for you as yoga practitioners and for those of you that are also yoga teachers. 
I've divided the posts into three categories: basic information about the feet
Basic Information about the Feet

In Video of the Week: Anatomy of the Feet I provide an introduction to the anatomy of the feet, including basic structures, landmarks, and functions.
In Video of the Week Anatomy of the Feet, Part 2 I focus on the movements you make with your feet and ankles and how these movements related to some yoga poses.
In Video of the Week: Anatomy of the Toes along with basic toe anatomy, I discuss how your toes move, what their functions are, what which kinds of common problems they can have.  
In Getting to Know Your Ankles I focus on the basic anatomy of the ankles. 
In Parallel or Not: Aligning Your Feet I share my recommendations for how to position your feet in standing poses.
In Your Feet On My Mind I identify some of the basic variations there are among different people's feet. 
Importance of Healthy Feet for Healthy Aging
In Want to Improve Your Balance? Take Off Your Shoes! Nina writes about the importance of practicing yoga with bare feet and going barefoot in preventing falls.
In The Importance of Preventing Falls, inspired by the book Being Mortal, I describe why maintaining foot health is so important as you age.
Specific Foot Problems 
In Friday Q&A: Flat Feet I discuss what flat feet are and how to work with them in your yoga practice.
In New Tricks for Old Dogs: Working with Bunions I discuss how to use your yoga practice to improve your bunions.
In Friday Q&A: Bunions, a Can, and a Rubberband I recommend a simple practice you can try to improve your bunions.
In Friday Q&A: Foot Cramps I discuss what foot cramps are, how to practice when you're having them, and how to avoid future cramps.
In Friday Q&A: Plantar Fascitis I discuss what plantar fascitis is, how you can practice when you have it, and how you might use yoga to help the condition.
In 
Friday Q&A: Morton's Neuroma I discuss what Morton's neuroma, a condition of the ball of the foot, entails and how you can use yoga to help you heal. 
In Friday Q&A: Difficulty Standing on the Balls of the Feet I discuss how to practice when there is difficulty standing on the balls of feet after surgery for Morton's neuroma.
In Friday Q&A: Sesamoiditis and Yoga I discuss what sesamoiditis (a condition of the toes) is and how to practice yoga as you are healing form it.
In Friday Q&A: Hammertoes I discuss what hammertoes are and provide a sequence to practice for those who have the condition.
In Friday Q&A: Big Toe Stiffness (Hallux Limitus) 
I discuss hallux limitus, which causes big toe stiffness, and provide tips for how to practice for those with the condition.
In Friday Q&A: Feet and Comments Shari and I both weigh in about how to practice yoga if you wear orthotics in your shoes.
In Yoga for Foot Pain I discuss how to practice yoga after a traumatic foot injury.
In Ankle Sprains  I recommend how to practice yoga after an ankle sprain. 
Subscribe to Yoga for Healthy Aging by Email ° Follow Yoga for Healthy Aging on Facebook and Twitter ° To order Yoga for Healthy Aging: A Guide to Lifelong Well-Being, go to Amazon, Shambhala, Indie Bound
or your local bookstore.
Follow Baxter Bell, MD on YouTube, Facebook, and Instagram. For upcoming workshops and retreats see Baxter's Workshops and for info on Baxter see baxterbell.com

.