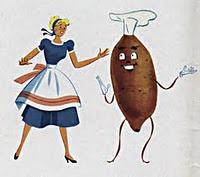 Ingredients
6 small red-skinned sweet potatoes (yams)
6 teaspoons Agave Syrup
Cinnamon (optional-to taste)
Directions
Preheat oven to 250 degrees F (120 degrees C).

Place yams in a large pot of lightly salted (sea salt), boiling water and cook for about 10 minutes, or until tender. Drain.

Arrange the yams in a lightly greased (olive oil) 9x13 inch baking dish. Cut a slit down the middle of each one.

Bake in the preheated oven for 5 to 10 minutes, or until golden. Spoon 1 teaspoon agave into each yam, and serve warm.