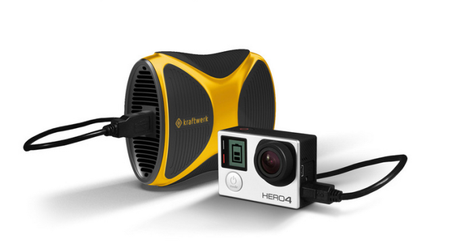 Keeping our electronic gadgets powered up while in the backcountry has become one of the biggest challenges for outdoor enthusiasts and adventure travelers today, with options like solar panels and external battery packs all being employed. But there are other options available too, including an intriguing new called the
Kraftwerk
that promises efficient power for smartphones, tablets, cameras, and other gadgets in a compact, lightweight form factor.
The Kraftwerk power station uses fuel cell technology to create clean power for all of your electronic devices. It can be completely powered up in a matter of seconds simply by injecting it with standard camping gas or lighter gas, which can be widely found in store across the globe. Once charged, the Kraftwerk reportedly can provide power to an iPhone 11 times before requiring more gas once again.
The Kraftwerk unit, which weighs just 200 grams (7 ounces) when full, converts the gas into power, which is then supplied to the electronic device via a built-in USB port capable of 2 watts of continuous power output, with a peak performance of up to 10 watts. The power station itself is just 3.94 inches (10 cm) long, 2.95 inches (7.5 cm) wide, and 1.18 (3 cm) thick, which means it is very small, and easy to carry with you anywhere. It has also been rated to operate at temperatures ranging from -15ºC to +55ºC (5ºF to 131ºF).
The team behind the Kraftwerk has been busy perfecting the device over the past few years, and it is now nearing production. In order to get the product built, they have launched a
Kickstarter campaign
that has already raised nearly $290,000 in just a few days. If they can hit their $500,000 goal, they hope to begin manufacturing the device late this year.
The video below will give you more information about the Kraftwerk, how it functions, and what it looks like. As a marketing piece, it's a bit on the corny side, but it does give you a good indication of what to expect when the product is released. To say it looks very promising for outdoor adventurers would be an understatement.