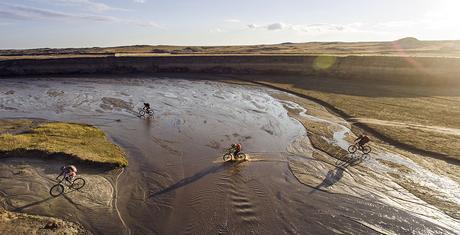 Earlier this week an epic adventure race took place in a remote region of China, marking the debut of the the Adventure Racing World Series in Asia. By all accounts it was a successful first race with just minutes separating the top teams in what promises to be an exciting new addition to the ARWS in the years to come.
The Xtrail Expedition race took place in the Altai Mountain region of China, not far from the border with Mongolia. The event covered 300 km (186 miles) or rough terrain, which the top teams were able to complete in just a few days time. In fact, in a sport that requires hours and days to complete, the three podium finishers were separated by less than 20 minutes, which is a testament to how strong the 28 teams competing in the race truly are. Of those 26 were international squads, while the other two were local Chinese racers.
The winners of the race were the Thule Adventure Team, which completed the grueling route in just 36 hours and 16 minutes. They were followed closely by Team Adventure Medical Kits, who were 14 minutes back, with Haglofs Silva coming in third another 4 minutes behind. The rest of the teams staggered in over the hours that followed, with the course officially closing on Wednesday of this week. Yesterday, the coed teams of four left the region and began the long journey home.
After such an auspicious debut, it seems that the Xtrail race may be a great new addition to the AR World Series. Having visited the part of the world where the event took place myself this summer, I can attest to how beautiful, rugged, and remote it truly is. With the addition of this race to the schedule, the ARWS now has events on six continents, which is an impressive feat in and of itself, and an indication of just how healthy the sport of adventure racing is at the moment.
Now, all eyes will turn towards Australia in November. That will be the host country for the Adventure Racing World Championship, where the 2016 world champs will be crowned. At the moment, it looks like it could be quite an interesting showdown between the best teams on the planet, and I'm looking forward to seeing how it plays out.