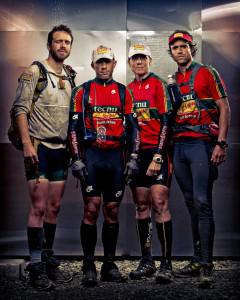 News from the world of adventure racing continues to roll in, as we march towards some big races that are yet to come this year. Like the
Raid the North Extreme
which will be held in British Columbia's West Kootney region at the end of July. Last week, organizers for the race announced a partnership with Canadian gear retailer Atmosphere, naming them their title sponsor for the event. The company will promote the race in their stores of course, as well as provide gear and contest prizes for racers and volunteers alike. The RTNX will cover more than 500km and is set to take place from July 23-31.
Congratulations are in order for the
Thule Adventure Team
, who claimed victory at the Le Grand Raid, held between Calais and Lille, France this past weekend. It is the second major victory for the team this year, who also took place at the Huairasinchi, Ecuador
back in March
. The Thule Adventure beat out second place Kiwi team Wilsa AFG and Buff Thermocool, who crossed the finish line in third place. 
Finally, the latest rankings for the Checkpoint Tracker Series have been released following a full weekend of racing that saw Team Tecnu Extreme/StaphAseptic win the Endorphin Fix in West Virginia. The race saw some top teams go head-to-head and served as a great tune-up the RTNX, which is now less than a month away.
Checkout the latest standings below as teams jockey for position heading into the Checkpoint Tracker National Championship in October. 
Checkpoint Tracker North American Rankings - Coed Elite Division
Rank Team Points
1st Checkpoint Zero/Tech4o 470
2nd Odyssey Adventure Racing-ImONPoint.org 430
3rd Tecnu Extreme/StaphAseptic 406
4th TeamSOG 389
5th Mountain Khakis/Rev3 Adventure 386
6th Florida Xtreme Adventure Racing Club 293
7th WEDALI 280
8th Goals ARA 266
9th Green Paw Adventure Sports 212
10th Big Mountain Adventure Racing 175
View Complete Rankings by Division