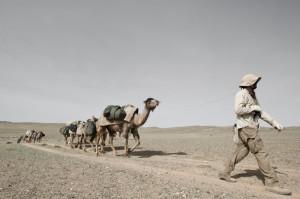 We've got a couple of more interesting interviews courtesy of our friends at CheapTents.com and Adventeer.com, both of which have been cranking out some great content recently.
First up, CheapTents has posted an interview with Louis-Philippe Loncke, who recently completed his kayaking tour of Belgium. In the interview, he discusses that expedition of course, but also touches on some of his other adventures, sharing thoughts on what inspires him, what he has planned for the future, his favorite gear items, and his worst injury ever suffered on an expedition. Warning! The last one is not for the faint of heart.
Not to be outdone, the Adventeer team has an excellent interview with Ripley Davenport, who has spent a great deal of time in desert environments, including the Namib Desert, Kara-kum, and, in recent years, the Gobi. Ripley discusses the allure of those places, which of the deserts presented him with the biggest challenges, the indigenous people he has met in his travels, and much, much more. He also offers advice to those seeking to pursue their own adventures and gives us some hint son what he plans on doing in the near future as well.
Both are good interviews to start off your day and provide a little adventurous inspiration. Thanks to both CheapTents and Adventeer for sharing!