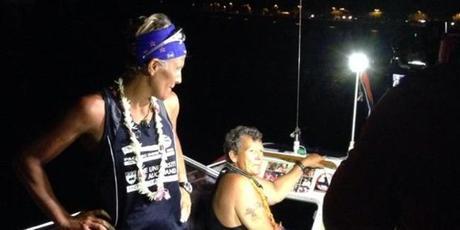 Ocean rowers Tara Remington and Angela Madsen wrapped up an impressive crossing of the Pacific Ocean a few days back, completing a 4000 km (2485 mile) journey that began in Los Angeles and ended in Waikiki, Hawaii. The two women were out on the water for 60 days, facing rough seas, high winds, and treacherous storms in the process.
Traveling in their 6 meter (19.6 foot) long row boat, dubbed The Spirit of Orlando, the duo set out to not only cross an ocean, but to raise funds for worthy causes in the process. Remington, who hails from New Zealand, was attempting to raise money to send a young girl to a special summer camp for amputees, while American Madsen rowed to support the California Adaptive Rowing Program, an organization that holds special meaning for her.
Throughout the voyage, the two women took turns manning the oars, making slow, but steady progress across the northern Pacific. The rough seas made for tough going at times, and exhaustion from 60 days of rowing certainly took their toll. But the scariest moment came when they were ten days from reaching the finish line. A big wave struck the boat, nearly sending Remington overboard. Fortunately, she was able to stay on the Spirit, and avoid what would have been a life-threatening situation.
Both women are accomplished rowers and athletes, each having rowed across the Atlantic in the past, amongst other great adventures. But in this case, Angela has other physical challenges that makes her accomplishment standout even more. The former U.S. Marine suffered a back injury while on active duty, and a botched surgery left her paralyzed from the waist down. Madsen hasn't let that slow her down much however, as she has rowed oceans, and competed in sporting events, despite lacking the use of her legs.
With this successful crossing of this leg of the Pacific, Angela has become the first adaptive rower to complete a section of that ocean. Clearly she has not allowed her physical challenges to prevent her from chasing after her dreams, and that should serve as an inspiration to all of us.
Congratulations to both Tara and Angela on completing this amazing feat.
Thanks to TA Loeffler for sharing this story.