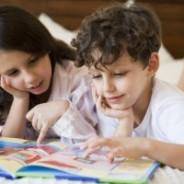 Stress in children stems from a number of potential causes, including homework, moving, friendship problems or a busy schedule.
Childhood stress can be caused by any situation that requires a person to adapt or change. The problem often produces anxiety. Stress may be caused by positive changes, such as starting a new activity, but it is most commonly linked with negative changes such as illness or death within the family.
Stress in children stems from a number of potential causes, including homework, moving, friendship problems or perhaps a busy schedule. While stress is normal, it may become overwhelming if your child doesn't know how to handle it. Teaching your children ways of dealing with stress gives them the tools to keep their stress under control.
Stress Reduction Activities for children
Children have different levels of toleration for stress. While some children may not be bothered through getting a bad grade on a test, another child may be very stressed out by it. It's important to look at your child's temperament when it comes to what events are likely to be perceived as stressful by your child.
Sensory Activities
Sensory activities could have a calming effect on your child when he experiences stress. Play dough is a well-liked childhood material that provides a sensory experience. When your child feels stress, provide him play dough to squeeze, pound and manipulate. A stress ball provides a similar experience for kids because they can squeeze the squishy ball. Finger painting and having fun with water are two other possible sensory activities to reduce stress.
Music
Music can be a stress reliever for kids. Music has a miraculous ability to reduce stress, boost feelings of well-being as well as lessen physical pain. Turn on some quiet music and have the entire class sit inside a circle and listen. If there are lyrics, encourage the children to sing if they wish to.
Exercise
Exercise as a way to reduce stress. Regular exercise may help your child feel less stress overall. If she experiences a particularly stressful day, physical activity can provide stress relief. Take a family bike ride, run around in the backyard or go to the park for a few hours of active play to reduce your child's stress.
Free Writing
Writing feelings down on paper can be a good approach to coping with stress. If the children are old enough to create, this is a good activity for the class. Have all the children take out paper and pens and jot down their feelings. Tell them to write whatever one thinks of. Tell them not to worry about grammar or even the look of the writing, but to write anything they are thinking. Tell them not to worry about anyone seeing the words on the page because they can trash it afterward if they like.
Meditation and yoga
Meditation and yoga can benefit a child's emotional health. Meditation or visualization techniques can be beneficial to children's health and wellness. Stress relieving meditations, such as focusing on deep breathing and relaxing every muscle within the body, can help children cope. For older children, yoga can be beneficial, too.