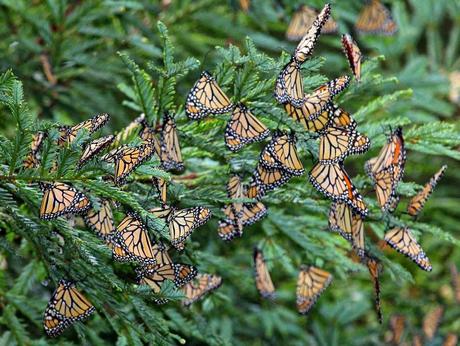 Monarchs by Melina Meza
Dear Readers, 
The Yoga for Healthy Aging staff has decided to take a two-week break during this holiday season. We're going to spend time with our families and let our brains rest a bit. This means that instead of having reruns, we won't be having any posts at all. So if you're an email subscriber, you will stop getting emails from us. Please don't worry. Nothing is wrong with your subscription—or with us.
We will resume posting on Monday, January 5, 2015.
In the meantime, we've got over three years of posts you can explore. If you want to look for posts on a certain topic, you can use the search function. Or, if you want to go back to a certain time period (maybe the early days of the blog before you started reading it), you can look through the archives. Finally, you can use the labels index to look for likely topics (or find posts by author). Sometimes we actually get questions from new readers who want us to address topics that in fact we've already addressed, so if you have free time during this vacation, take some time to explore the information that you might have missed. See How to Search for instructions on how to find older posts that might interest you.
Happy Holidays, everyone!
Sincerely,
Nina, Baxter, Ram, Shari, and Brad
Subscribe to Yoga for Healthy Aging by Email ° Follow Yoga for Healthy Aging on Facebook ° Join this site with Google Friend Connect