Before you head out for your next WOD, be sure to pack these 5 CrossFit Must Haves in your gym bag.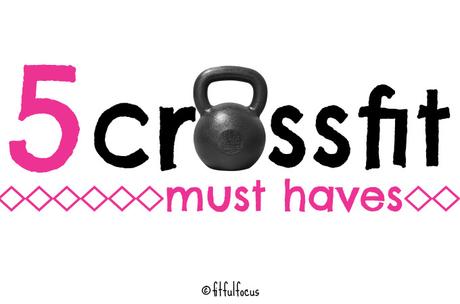 Wow. This week has been a whirl wind. Things have been CRAY-to-the-ZEE around here, but hallelujah for the weekend! I have to admit, this week I've been off my workout game. Every now and then I just lack motivation. You know what I do? I let myself have some time off. A little break usually makes me crave my routine again. You know what else helps? Finding new things to work toward - usually fun Fit & Fashionable things!
I told myself that if I stuck to my Paleo Experiment for a month (I still owe you all a recap - stay tuned!), I could get myself these awesome shoes. I did. So I did! Come to me, babies!
Well, after this little workout hiatus, I'm looking toward my next goal. I think if I stick to a whole month of my workout plan (3 days of running and 3 days of CrossFit), I'll let myself get a new CrossFit jump rope.
I'm not sure which kind yet, but that got me to thinking about what I keep in my CrossFit bag - which led me to this post. Soooo if you're looking to get to the box, be sure to get your Fit & Fashionable on with these 5 CrossFit Must Haves.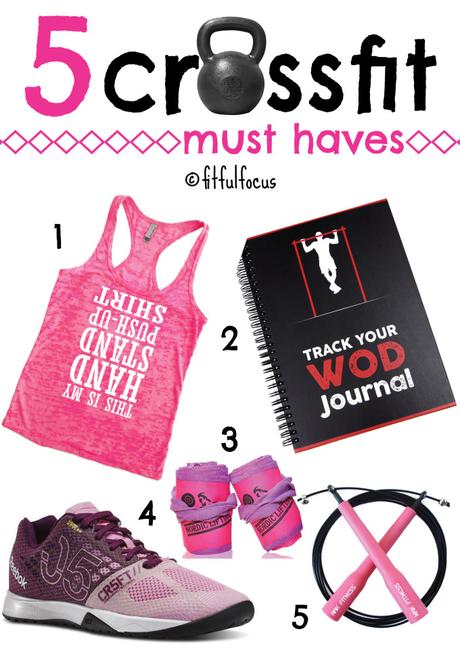 1. A playful tank. I love the one featured here. I'm also a fan of "Bend & Snatch!"
2. A tracking journal. There are a lot of different lifts and moves in CrossFit. It can be hard to keep track of what you were able to do when, so I got this sweet little notebook. It really helps me keep track of how much I've been lifting, so I can try to progress with each workout. It has sections for PR lifts, daily WODs, gives recommended weights and more!
3. Wrist wraps. I actually don't use these, but I'm thinking about getting some. A lot of people use them to protect their wrists, especially during grip-heavy things like deadlifts.
4. Reebok Nanos. Just like running shoes are built for running, CrossFit shoes are built for CrossFit. They're designed to help you move with effeciency and stay balanced on your feet. There are also weight lifting shoes for heavier, olympic lifts. I haven't invested in those yet, but maybe one day.
5. Speed rope. One of my goals this year is to nail consecutive double unders. To do so, I'll need a good speed rope. I have one, but I'm not loving it - so I'm on the market. I'd love to get one with a little color like the one here. If I stick to my monthly workout plan, a new, higher quality, colorful rope is in my future!
Want to share what's in your gym bag of just let me know how you're staying Fit & Fashionable? Share your pics with #fitnfashionable and/or join the link up ( full link up rules here)! See ya on the fashionable side!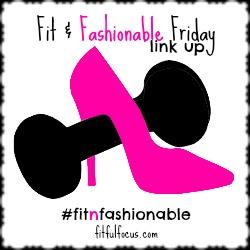 Let's Chat:
CrossFitters, what are your must haves?
Non CrossFitters, what are some must-haves for your workout of choice?
This post contains affiliate links.