Get your blood flowing & that heart pumping in honor of American Heart Month with these 10 Tips to Stay Heart Healthy and a bonus Heart Pumping Workout!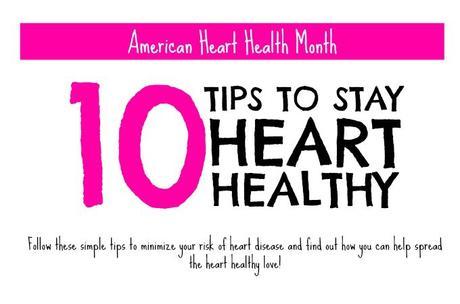 Welcome to another great Wild Workout Wednesday Link Up where Annmarie from The Fit Foodie Mama, Angelena Marie from Angelena Marie: Happy, Healthy & Balanced, Michelle at Fruition Fitness and I bring you workout ideas, motivation, inspiration and recipes to try. Join us each week by reading along, linking up and grab the button to proudly display on your blog/in your posts!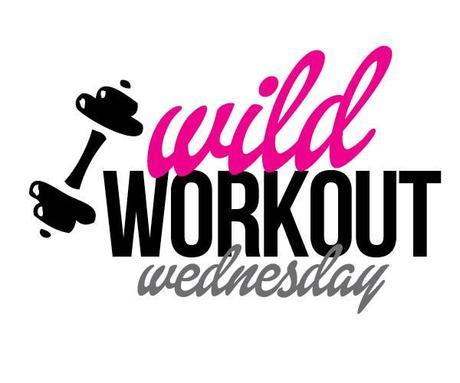 As I mentioned on Monday (have you seen those Easy 3-Ingredient Chocolate Truffles?), we've officially entered the month of love, but it's also American Heart Month!
What does that mean? It means it's time to take care of our hearts people! Did you know that heart disease is the leading cause of death in American women? I'm talking women of all ages and health ranges - not just elder women who smoke or women that are overweight. Younger women, even healthy women, aren't invincible. I'm not trying to scare you. I'm just trying to help educate, so we can make sure we're taking care of ourselves.
So, how do you do that? Simply follow these 10 Tips to Stay Heart Healthy!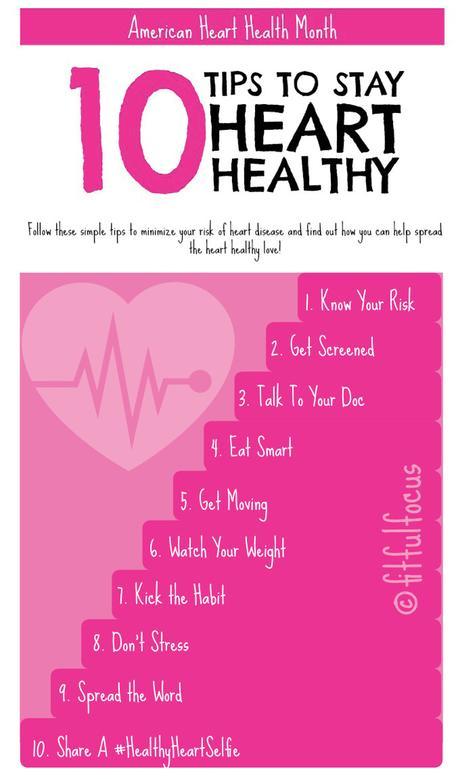 Know your risks - High blood pressure, high "bad" cholesterol, diabetes, tobacco use, physical inactivity and being overweight are all the leading causes of heart disease in women. Keep these things in check to keep that heart ticking.
Get screened - Have your blood pressure, weight, cholesterol and blood sugar checked regularly. You can make an appointment at your doc, or you can head to 1 of 47 Burlington Stores across the country between 11am and 3pm on National Wear Red Day (February 5th) for a FREE hearth health screening. Find a screening near you

Have a heart-to-heart with your doc - He/she will be able to help you improve your heart health on a more personal level.
Eat smart - Load up on the good stuff like fruits, veggies and lean meats, and avoid things that are high sodium or have added sugars. Basically, stick to real, whole foods.
Get moving - Aim for 30 minutes of moderate physical activity a day. Walk, swim, dance, check out one of these awesome workouts or do the fun workout I whipped up for you below!
Watch your weight - The more you weigh, the harder your heart works to pump. Stay within a healthy weight range for your height (find out what that is here) to ensure your heart feels the love.
Kick the habit - Smoking damages heart and blood vessels and increases your chance of high blood pressure and blood clots. Quitting dramatically cuts the risk to your heart - even within the first year.
Don't stress - This is a toughy, but it's necessary. Find out what causes stress in your life and cut back on it. If something isn't adding value to your life, why do it? Instead, swap out the stressors for stress-relievers and things that make you happy. Meditate, do yoga, breathe and, most importantly, get in some me-time!
Spread the word - 43 million women are living with or at risk of heart disease. The more people who know about the risks and help spread the word, the more we can learn about heart disease and help prevent it.
Share a #HealthyHeartSelfie - Snap and share a pic of how you are being heart healthy and tag it with #HealthyHeartSelfie. For every photo posted with that hashtag, Burlington will donate $1, up to $25,000, to benefit WomenHeart!
So how's about a Heart Pumping Workout to get you started?! To ensure anyone and everyone can get their healthy heart on, this energizing cardio sweat sesh doesn't require any equipment - sooooo no excuses! Let's get to it, my loves.
So get that heart pumping, help spread the word and of course, join the Wild Workout Wednesday Link Up ( full linkup rules here).
Let's Chat:
How are you staying heart healthy?
When's the last time you had a heart screening?