I have been on an Yves Saint Laurent kick for the last few days. And I blame Influenster for that. In all seriousness, THANK YOU Influenster for choosing me to receive the YSL Vox Box. But more on those products later. Today I want to talk about the beautiful, limited edition, Nordstrom exclusive YSL Rock Resille palette. Now don't let the "Rock" mislead you. This is actually a very feminine palette with shades suitable for everyday wear. But I can see where you would be able to spice it up a bit.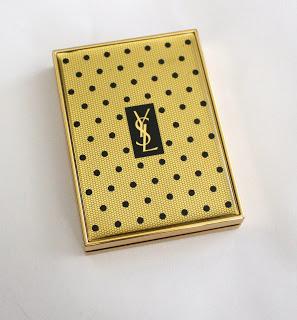 I have not tried this particular formula by YSL. But I am always leery of high end eyeshadows because, to be frank, they tend to be highly disappointing.  Fortunately, I adore this palette and I have used it quite a few times since it arrived.
The colors in this palette are light and on the sheer side. Typically, I hate these kind of eyeshadows, but this palette works really well for me. I think that is mostly due to the texture and the fact that the colors pair well with my eyes. They are soft, buttery, and blend very well. There are five shades in this palette: a shimmery pinky vanilla that makes a gorgeous brow highlight, a metallic copper, matte taupe, matte black, and a shimmery light peach.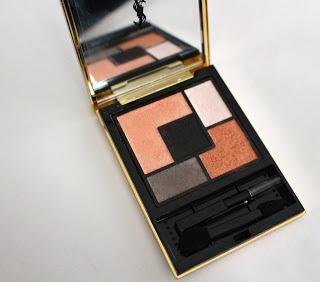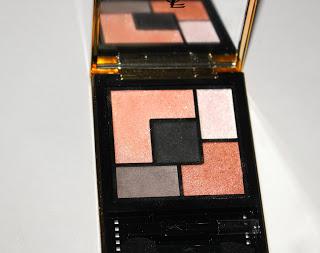 I have used this palette in two different ways. The first (and my favorite) is to apply and blend the light peach shade all over the lid. I take the copper shade and apply it on the outer half of the lid and blend it up into the crease. I also apply it along the lower lash line. I apply the lightest shade on the brow bone and use the matte black to lightly define my eyes.  I have also used this palette to create a smokier look that is pretty much the easiest thing ever. I just take the taupe apply it on my lid and blend it up into the crease. I line my eyes using the darkest shade and highlight using the lightest shade.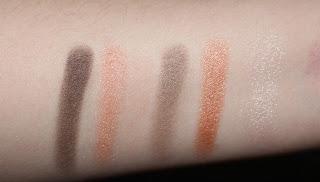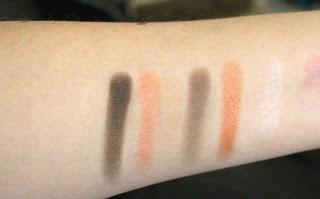 Despite the sheerness of the shadows, fading and creasing has not been an issue at all. They stay on my lids all day, which is pretty remarkable considering my eyelids can get oily.
The packing is also nice. The compact is gold with black dots and a lace-like design. It looks like it would be made out of metal, but it is plastic. It isn't flimsy, but I have seen sturdier compacts. So just be mindful if you were to travel with it. It has a mirror and two applicators. Although the applicators are nicer than typical ones that come in eyeshadow palettes, I always recommend (and prefer) using brushes.
Is this a palette that you absolutely must have? No. It is rather expensive considering that the shades are pretty dupable and more on the sheer side. However, the formulation is lovely and they last a long time on my lids. It is an easy palette to reach for when you want something easy, but also want to look polished and put together. Of course you can also get one of those at a much cheaper price. I don't wear a lot of designer makeup, but I am just a sucker when it comes to YSL and Guerlain.
This palette is a Nordstrom exclusive and it is $62.