When on holidays, I morph into an eating monster – I must have all my meals, or else I'll have no energy to do the countless and needless shopping sprees. Here's one of my favourite breakfast places in Myeong Dong.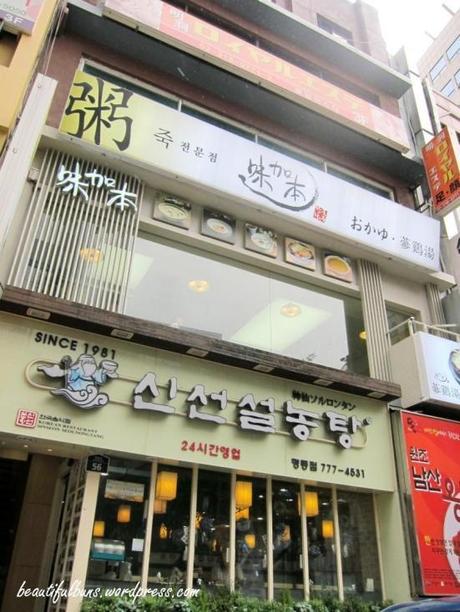 This is a very plain building located in Myeong Dong, somewhere towards the end of the main street, opposite Seoul Royal Hotel.
On the first level, there's a very famous seollongtang 설렁탕 – which is essentially Korean broth tang (soup) made from ox bones (mostly leg bones), brisket and other cuts. It is the one of the few dishes in Korea that you can apply your own seasoning such as pepper and salt. Click here to find out more about it. The food is delicious, but the seollongtang place is always ridiculously crowded at meal times (unless you head there around 9 or 10 for supper).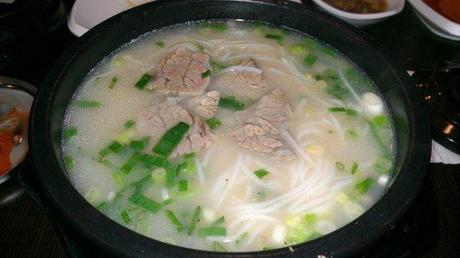 Photo taken from here because I'm usually too busy stuffing my face to take proper photos.
Fret not, because if you were to climb a few more steps to the second level, you will find a super yummy porridge place. It's called (surprise surprise) Korean Porridge. There's a Japanese name too, but I'm not sure how to pronounce it – in Chinese it's pronounced as Wei Jia Ben – something akin to "extra taste".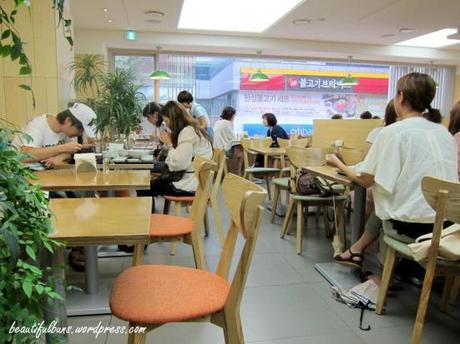 This is a very cosy little eatery that seats about 50, and has the nicest, nicest, nicest staff. The food comes REALLY fast as well – less than 5 minutes of waiting time needed. They also clear tables REALLY fast – we counted that it took about 2 minutes from the time the customer stood up till the table was clean and spotless.
What do they serve? Porridge of course.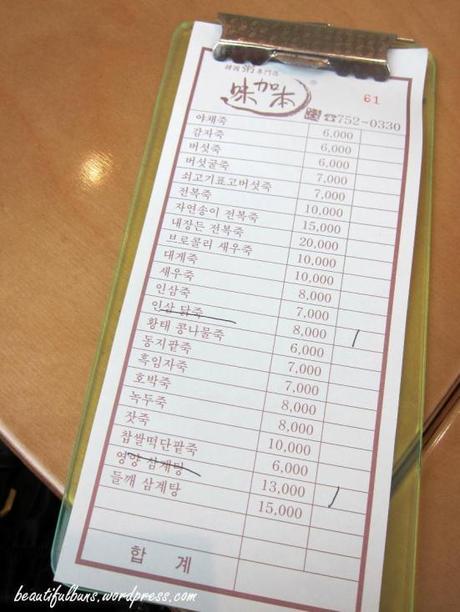 Very affordable prices – the most expensive thing on the menu at KRW20,000 is the abalone and intestines porridge. Other items on the menu include: Mung Bean porridge, pumpkin porridge, azuki bean porridge, abalone porridge, mushroom porridge, prawn porridge etc etc.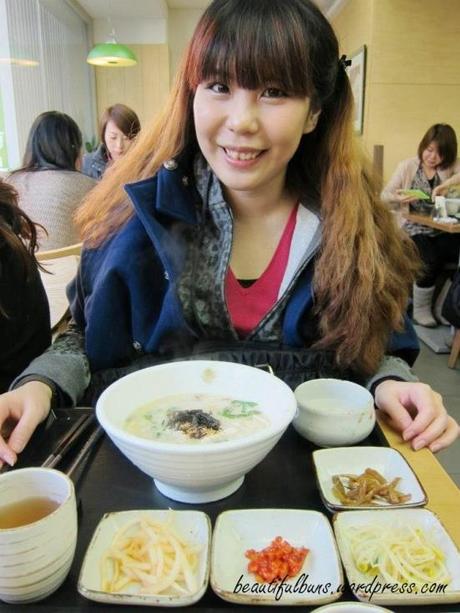 Me and my ginseng chicken porridge – look at the wide assortment of side dishes it comes with! (ignore the crappy hair – before reaching Korea, I usually let my hair grow to unmanageable lengths so that Jei from Cecica Hair Salon can fix it nicely)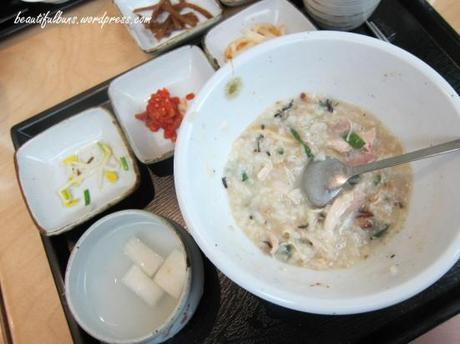 I ate about 70% of the porridge before realising that I'd forgotten to take a photo of it. heh. This costs just KRW8,000 and is really filling.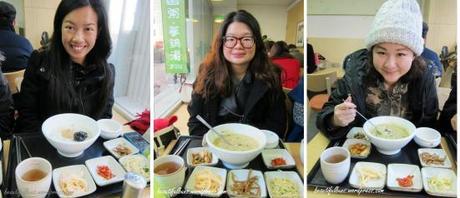 My pals looking uncharacteristically happy in the morning with their yummy porridge – they're usually as much as a grouch as I am during the a.m.
If you're ever in Myeong Dong and need an idea of what to eat, you should totally head over here! (note to self: take more photos of yummy Korean food places to blog about

)