Sometimes, a tinge of OCD can either help or hinder you – I just have that urge to do everything properly and thoroughly, which helps me amass a mountain of info, but damn gurl, this takes so much time and effort. I guess in the case of hunting for an interior designer (ID) or contractor, this came in quite useful in protecting my bank account hohoho.
Now that I've successfully gotten the keys to my HDB resale unit (after months of searching and viewing, as well as meeting a wide assortment of property agents), it's time to do the renovations.
SHOULD I PICK AN ID OR CONTRACTOR?
Go for an ID if:
You don't really know what concept/theme/type of works you'd like done
You would like to get artistic / technical advice
You prefer to deal with just one point of contact (saves a lot of time for you)
You don't mind paying a markup on the basic construction costs (cos the IDs do need to earn)
Go for a contractor if:
You know exactly what concept / theme you'd like
You have the time / resources to check out each individual type of contractor (which means you need to shortlist and compare quotations of a few carpentry contractors, a few masonry contractors etc, before deciding on one)
You have an abundance time to deal / communicate with multiple contractors
You know / will be able to research the sequence that works have to be done
You have a very tight budget and don't mind going for the no-frills stuff (i.e. no branded soft closing hinges, etc)
Basically, an ID is a project manager who also helps conceptualise your place for you. A big plus is the 3D drawings they usually provide – which will help you visualise your new place so much better, and their on-site supervision (so that you don't have to be there all the time).
Now, I already had an idea of what I wanted, and I simply needed someone to build/construct for me. Ideally, going with contractors would be best for me. However, what came across as a challenge was:
finding them (they're not as social media-savvy as the IDs, so being able to hunt them down is tougher. Word-of-mouth referrals are good too)
communication can be a bit tough
The contractors I found / met with were pretty okay, but I figured that I didn't have the time to manage all the separate contractors – and I also found an ID who gave competitive rates (but more about that later).
PICKING MY ID
Step 1: Do your online homework
I encountered most of the IDs I met on:
Instagram (for once, the viewing tracking helped, cos it pushed many ID ads to my page)
Qanvast
HomeTrust
I did meet some IDs at house reno fairs, but I realised that these firms that have the money to book spaces at such fairs will usually charge higher.
Tip: A lot of the ads always promote their packages  (eg 2 Toilets + 1 Kitchen for $25,999) BUT note that your final bill is ALWAYS higher than all these package / quotations numbers. It also depends on your scope of works – sometimes, ala carte might be better. 
Step 2: Check on the ID firm's expertise
Most of these firms have their portfolio very proudly displayed on the above sites / their own sites, so check out those pictures.
If you've got a certain theme in mind, you'll be able to gauge which firms are better versed in producing your preferred concept.
Tip: Although online reviews can be very helpful in helping your ascertain which IDs to contact, take note that this is a very competitive industry, and some of these reviews / criticisms can be planted by competing firms. Take the reviews with a pinch of salt, and read as many reviews as possible to get a gist of the firm's capability. 
Step 3: Making first contact
Once you've shortlisted a few ID companies, you can submit your details to the various IDs (either through the abovementioned sites, or directly through the company's Facebook/official website) and wait for them to contact you.
They'll usually Whatsapp you to ask for your floor plan and what sort of works you'd like done, and also to arrange a meetup, either at the unit, or at their office.
Tip: Be sure to have a to-scale floor plan of your place (not those that you've lifted off the internet lolol). You can purchase them off HDB here (it costs $5).
Step 4: Meeting up and discussing your plans with the ID
Be sure to set aside at least 1 hour for the discussions, and some #houseinspo images to better convey your preferred concept to the ID.
This will be rather indepth, where the IDs will raise possible technical issues facing a certain design you want,or bounce off your ideas to give a better suggestion. I pretty enjoyed these sessions cos I learned a lot about renovation works, and also got to know the ID a bit better
I got handwritten quotations/printed quotations on the spot,  as well as"I'll follow up and send to you in a few days" quotations.
Tip: Make sure that you have a rough idea of what sort of works you'd like to do (i.e. Kitchen cabinet. 2 toilets etc), and prsent the same type of works (where possible) to each ID you meet, This allows you to have an even comparison base later when you're deciding between IDs based on costs.

Step 5: Compare quotations
Here's where you'll find yourself returning to your school days – having files containing stacks of paper quotations and having to use stationery again (to mark out / take notes).  Instead of comparing the overall final figure, do a breakdown of unit cost instead. You'll be able to see which ID has a tendency to mark up more. Here are the costs I received, consolidated in an excel spread sheet.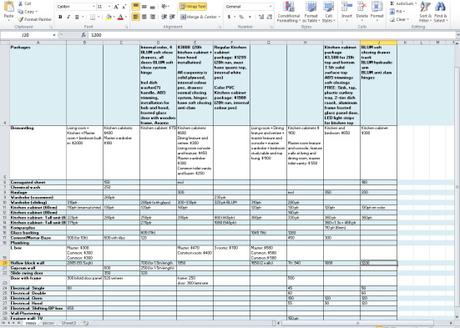 Here are some costs I received:
Kitchen cabinets (top/bottom): $100-120 per ft run (add on $10 per ft run if you'd like to have coloured interiors for your cabinets, as opposed to white)
Casement door wardrobes: $230-300 per ft run
Sliding door wardrobes: $280-330 per ft run (there's additional cost if you want to have aluminum sliding tracks, or glass/mirror doors)
Tip: There are NO economies of scale when it comes to renovation works – it doesn't get cheaper the more you do. Instead. the more works you do, the more areas the ID has to mark up. One area that saw massive markup was painting – I saw quotes of $1,200-1,400 for a 4-room flat, but if you get a painter directly (my friend got hers through carousell), it'll only cost $650-1,000.
When deciding on your ID, you need to take into consideration the costs and your gut feel about the ID (I'm not even kidding about this). The ID will be the one liaising with you all the time, so you need to get someone whom you are comfortable with (and of course, he/she has to come across as being efficient). This is also why the discussion with the ID is very important.
Here are some ID firms / IDs I met (out of quite a number):
Homies Design / Kenchi: This is the ID I selected – and no, I'm not sponsored nor did I get any influencer discount. I saw his firm's ad on IG, and submitted my details.  From the get-go, he was pretty impressive. He came to the unit on time, knew what to look out for (he knew which area to pry open to check if there was flooring underneath, etc), and got my ideas very quickly.  Even though I told him he didn't have to, he accompanied me on my visits to various suppliers (Kompacplus, tile shops, vinyl shops) at all ends of the country. Works progressed mostly on schedule, and he has been very obliging to my admittedly fussy demands (I wanted specific door handles, materials etc). Delays in work, if any, were out of his control, which I understand. He's also been very on-the-ball regarding rectification works. 10/10 would recommend him.
Starry Homestead / Danson: Very helpful and receptive to ideas, and tried hard to work around my budget. Unfortunately, due to the (presumably) preset markup, I couldn't get the works I wanted for my budget. Would still recommend him though.
ExQsite / Alan: Extremely sincere guy who even hand-drew a 3D illustration to show the mockup of the kitchen. He was among my top few choices, but decided to pass on Alan based purely on the distance of the ID firm (this is somewhere in the west, whilst Homies is nearer to my place)
Yujia / Carry K: Earnest, but seemed more driven by the need to sign a contract rather than being passionate about this job.
First Dot / Marco: First impressions were great – he seemed to know what he was doing, came across professional and assuring. Prices seemed relatively reasonable. However, I did notice that he took quite a while to reply with quotations/revisions – it would take days to even a week. Despite that, I placed a deposit with him, and that's where it went downhill. I waited 3 days, and there was no schedule. When the schedule arrived – it had the wrong start dates (he stated dates that had already passed!), and I asked for a revision. Again, it took several days for a revision, and it arrived with the wrong scope of works (ie works that I didn't ask for). By this time I was a little peeved – if it takes so long just to get some paperwork done, how could I be sure of his quality of work / rectification during renovations? I decided to bail whilst I could, and told him I wanted to cancel and obtain a full refund. Even the refund process was painful – we had to go down to the firm 4x just to successfully receive the check (cheque wasn't ready, check wasn't signed, check had the wrong amount). I had to pay a certain cancellation amount, but I thought it was worth it.
And now, to move on to other parts of my home-owner process – going shopping for furniture and white goods!