Tech Tuesdays:
Facebook has brought us so many things:  the ability to communicate with long-lost friends, quietly stalk old boyfriends and brag about the cool places you are going to. Actually, I love Facebook and it's amazing what one website has allowed us to do (or in my case, not do.) And now it's brought us the easiest shopping experiences possible – via Facebook auction.
If you haven't had the chance to participate in an online auction to snag the trendies jewelry pieces or cutest kids clothes, then you shouldn't start. Honestly, like Pinterest, it makes spending time you don't have feel like you might miss an opportunity to learn the secret to eternity if you don't scroll down the page for a few pages and type those four letters : S-O-L-D. I know I came by my first Facebook auction honestly…I heard about it from a friend who had "liked" the page and decided, that I would snoop and see what she liked. Shouldn't have done that. I found myself at Jewelry Nut Auctions, had bid on the must-have necklace of 2012 and then within a few hours had received an invoice, paid via PayPal and then around a week later had a cute little delivery. It was so easy it hurt and that started my newest addiction. After a "why didn't I think about that?" moment, especially since so many of them are DFW-based… I found out I was a little late to the game.  Jewelry Nut claims they were the first Facebook online auction site dating to 2011, but the concept has spread like wildfire and there are many others including adorable kids clothes that work just the same way.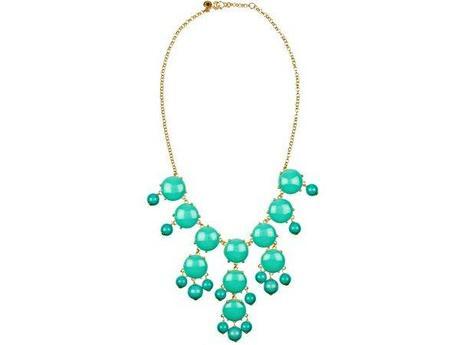 The 2012 necklace of the year, inspired by J. Crew. Grabbed mine on Jewelry Nut  for around $26. (Grabbed this shot from Cupcake Life.)
The concept is easy. Basically 2-3 times a week for one hour, the site loads up their goodies for the night, you bid on them and then if you make your bid before the quantity is out, it's yours. The rest of the time the Facebook site is showing previews of the things you can bid on during auction nights. It really is genius and after looking at some of the "Like" counts on these, you can see that I'm not the only addict.
Just make sure you check out the basic rules first before your first bid, but here are the normal fundamentals before you jump in blindly.
         

Check to see if you need to register for bidding

         

No returns or exchanges

         

Invoices should be paid immediately (within 48 hours)

         

Shipping is normally included
Still think you need to try a taste? Here's just a few of the ones I'm following:

Jewelry Nut Auction: (Jewelry)
Auctions are twice a week on Monday and Wednesday, 8 – 9 PM CST.

Also, they recently began Style Nut Auctions (Women's Clothing and Accessories), which are on Wednesdays at 8 PM. (Love these gals since they are local yokals from Fort Worth!)

Smocked by StellyBelly: (Children's Clothing)

Auctions are twice a week on Mondays and Wednesdays at 8:30 PM CST.


Accessories Auction: (Jewelry/Accessories)

Auctions are twice a week on Mondays and Wednesdays at 8:30 PM CST. (More Dallas ladies with their business hats on.)


Accessory Concierge: (Jewelry/Accessories)

Auctions are twice a week on Mondays at 11 AM and Wednesdays at 8 PM CST. (See the trend here? Dallas likes its accessories!)


Southern Tots: (Children's Clothing)

Not necessarily an auction, but sales happen Monday, Tuesday, Wednesday, and Thursdays.


Zdori Auctions: (Jewelry)

Auctions happen Tuesday – Thursdays from 11 AM – 1 PM. This site says they even offer items for free if you claim them in time or share enough of their site with your friends on Facebook. (Hello again from big D!)


Smocked Auctions: (Children's Clothing)

Auctions are twice a week on Tuesdays and Thursdays at 8:30 PM CST. (Another lovely Dallas-based company.)

Which ones are you following? Am I missing one? This addict needs another fix!