This delicious post is sponsored by P.F. Chang's, but my opinions are all my own.
The destination for Asian flavors in a beautiful, yet homestyle atmosphere, P.F. Chang's is rolling out their new menu with hand-rolled sushi  as well as inventive small plates and handcrafted cocktails. First and only in Dallas!
The original home of the lettuce wraps, I've always been a fan of P.F. Chang's. However, it had been a long time since I had eaten there. I mean a LONG time. But with a new menu full of hand-rolled sushi, several shareable small plates and craft cocktails, what a great reason to see what we've been missing!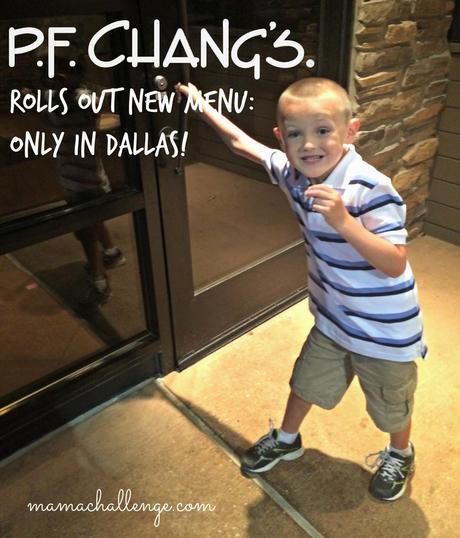 While choosing what we were going to enjoy for dinner we ordered two of the NEW premiere specialty craft cocktails: the Red Sangria with Absolut Mandarin Vodka and merlot mixed with fresh fruit (like strawberries, oranges, and a cherry) and a Twisted Whiskey Sour with Woodford Reserve Bourbon, Cointreau, orange juice, honey with blood orange bitters. As we sipped, we pondered our dining selections.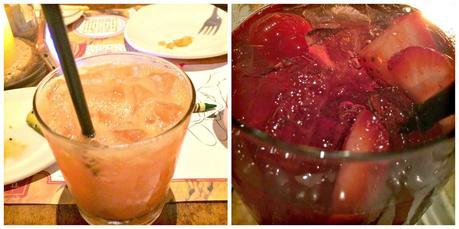 Their new P.F. Chang's Sushi and Maki offerings included: 
Tempura Shrimp Hand Roll: A sesame-soy wrap, hand-rolled with crisp tempura shrimp, avocado, cucumber and Japanese rice
Dynamite Scallop Roll: P.F. Chang's signature California Roll topped with lightly seared scallops, finished with a creamy sriracha sauce
Spicy Tuna Roll: Rolled-to-order Sushi-grade Ahi with cucumber, daikon sprouts, sesame-seasoned rice and a dash of sriracha
Cucumber Rolled Kappa Maki: Fresh sushi-grade Ahi tuna, salmon and kani kama rolled with avocado and mango, wrapped in cucumber served with sweet and spicy glaze
California Roll: Rolled-to-order with kani kama, crisp cucumber, avocado, sesame-chive rice and sweet soy sauce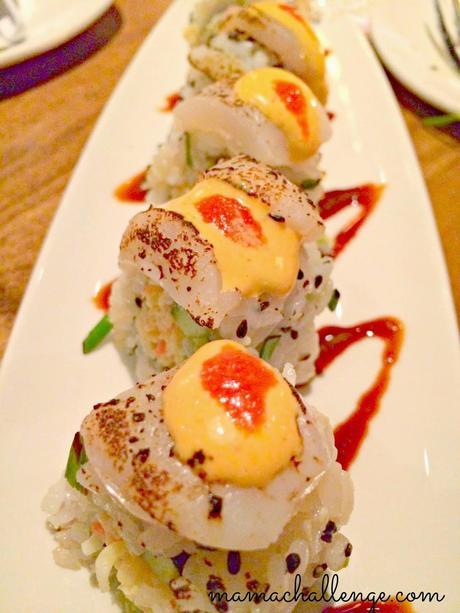 Always up for trying a little bit of everything especially an Asian take on tacos, I had to experience the Jicama Pork Tacos with lemongrass seared pork, topped with a refreshing tropical pepper slaw served in jicama "shells". A little spicy for the kids, I cleaned house on these three hand "tacos" that gave you the same crunch of a tortilla but made with jicama.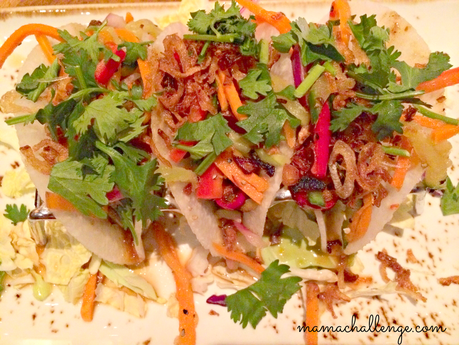 However, the superstar on the menu was the Ahi Tartare with Avocado! Every bite of the diced sushi-grade tuna was perfect with cucumbers, scallions, citrus soy sauce and sesame seeds over sliced avocado with crispy wontons and the creamy, spicy sauce that dotted the plate. (We actually discussed ordering another plate!)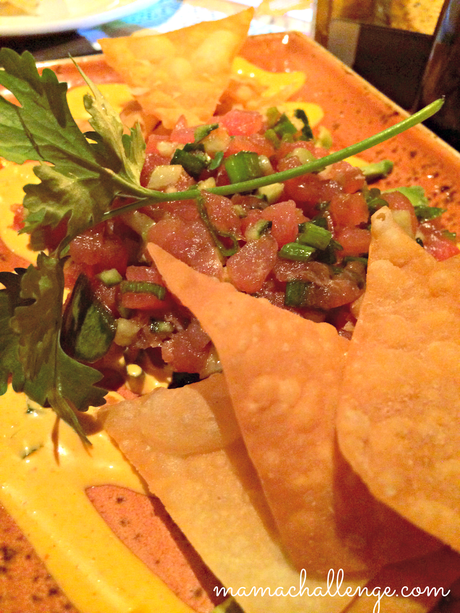 Other yummy new small plates featured on the new P.F. Chang's menu: 
Edamame Hummus: P.F. Chang's twist on hummus is a signature blend of fresh edamame, sesame seeds, ginger and a hint of chili. Served with house-made crisp plantains
Saigon Summer Rolls: Lemongrass chicken, julienne carrots, celery root, cilantro, peanuts, Thai basil and mint wrapped in cool rice paper with a sweet chili dipping sauce
Asian Carnitas Bao: Carnitas with an Asian twist. Seared chili marinated pork stuffed in soft steamed pillow bao buns, served with a fresh pineapple salsa
And while we couldn't squeeze in anything else, I definitely know we will be back to P.F. Chang's when they launch their new Wine & Food Pairings on Wednesdays starting next week, July 23!