I do!       
                               
A trend for Spring 2011, Orange Lipstick is something that I would have never considered wearing. I wasn't sure if it would be a good choice for my cool skin tone. I never thought I could pull it off despite the fact that I love orange nail polish. All my rejection of orange lipsticks, lip glosses changed, when I discovered Givenchy Nauvement Couture Collection. How could I resist the vibrant orange , after wearing pink and nudes all winter? Say hello to my new lipstick addition – Candide Tangerine - a very orange color, intensely pigmented, and with a glossy, shiny finish.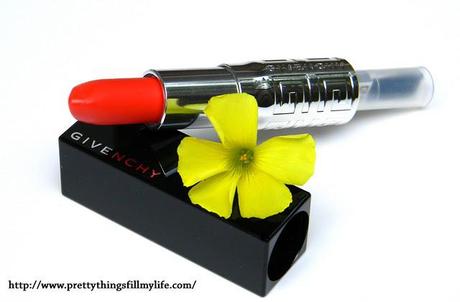 The color is oriented towards yellow more than red, but that doesn't make it awkward. It's not like Halloween makeup or neon orange. 
Givenchy Rouge Interdit in Candide Tangerine can be worn sheer or layered for a more intense look. It has full coverage, glides easily, and a creamier texture than Dolce Gabbana Lipstick. The scent is floral and dissipates after a while. The Rouge Interdit packaging adds a little extra character to the product. I think it's really beautiful and luxurious looking. Thank you mommy for introducing me to Givenchy.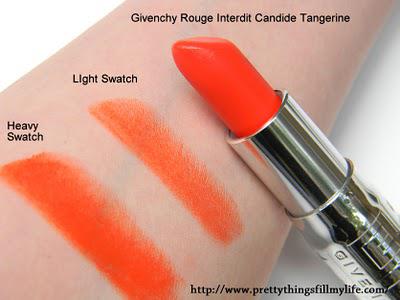 Givenchy Rouge Interdit Satin Lipstick in Candide Tangerine Swatches -                                                      the light swatch adds a stain to the lips                                                      the heavy swatch gives full coverage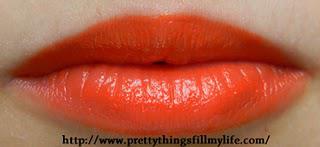 Candide Tangerine on my lips