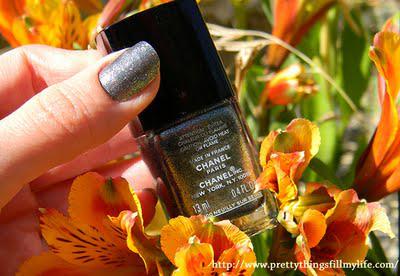 I would describe Chanel ILLUSIONS D'OMBRE in Graphite as a dark – gray gunmetal shade with added white- silvery or golden shimmers ( depending on the lighting ) that bring a subtle green tone to it. It's foil metallic, very shinny and crazy glittery and all together play really well to achieve a mirror effect. Although Chanel Graphite has so much glitter in it, it does not feel gritty; it's smooth and flows easily. I call this shade Urban Contemporary Chic with an industrial edge.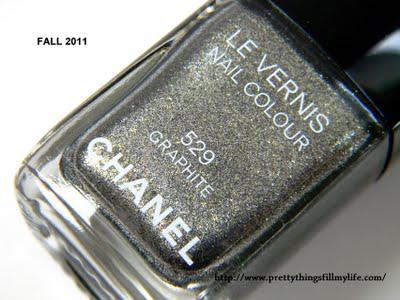 The shade seen in the bottle, with its beautiful, warm golden-green tone, can be achieved by applying the nail polish in two coats. Applied in one coat will look sheer, cooler, and oriented towards light – gray.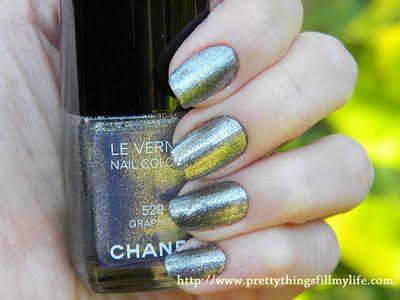 Plenty of glitter and a metallic sheen reflect the light differently depending on the light source. In the sun you can see all those mesmerizing sparkles, glistening in the light. In artificial lighting depending on the angle you look at, it could look very cool dark, almost light black, or warm-light silvery with golden specks. It's quite a multifaceted color – rich and complex.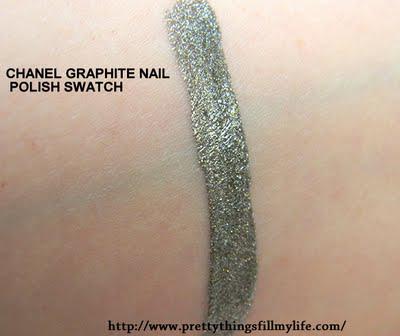 It works beautifully with Illusion D' Ombre Eye Shadow in Epatant.