Giorgio Armani Gloss d' Armani comes in 18 shades which include nude, pink, red and plum colors. I would have liked to see some orange shades too, unfortunately there aren't any. The shades are not named, just labeled with numbers.  
The nude beige series is numbered starting with 100, pinks 500, reds 400 and plums 600. There is one shade labeled 200 as part of nude, which was not available in the store.
The lip glosses have a really intense, high degree of shine, and radiant glitter particles are found in some shades more than others. I haven't seen any glitter in Red 400, the Armani signature shade, which seemed really pigmented and did not need to be layered as a swatch. I haven't try it on my lips yet, but this shade in particular looked like it could be prone to bleeding. The glosses applicator is an angled doe foot.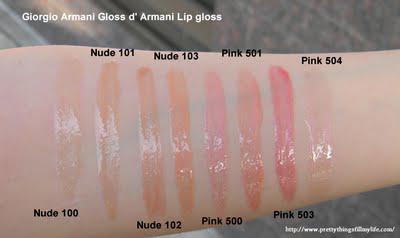 Nude 100 - is the most sheer, and lightest one of all, more of a white - beige 
Nude 101 - adds a little bit more beige to the shade 
Nude 103 - is a beige brown with plenty of glitters
Nude 104 - a  beige - coral shade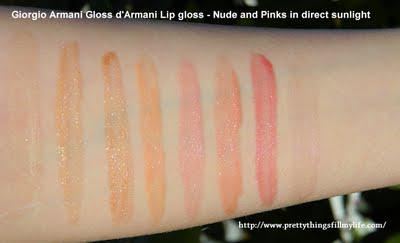 Pink 500 - a light, soft pink
Pink 501 - a peachy pink
Pink 503 - a
stronger-
reddish pink
Pink 504 - a lavender -rose pink, really light with iridescent pink, purple glitters - this one really comes with lots of them.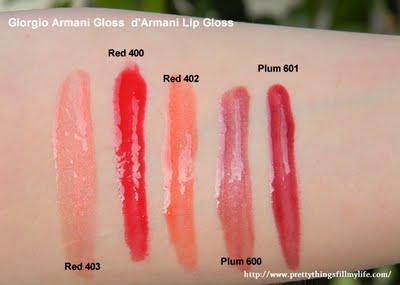 Red 400- Armani signature red
 Red 402 - a coral, orange color, not really a red
 Red 403 - is more of a pink coral with plenty of tiny sparkles
Plum 600 - pinkish plum
Plum 601 - rich, vibrant, lush plum
Missing 200, 502, 505,  401, 602. The store did not carry them.   
Which one is your favorite? What do you think about them ?