Am I orange obsessed , am I? I wonder if you guys think: "Not again, find another color". I got this orange mania while I was a teenager , wearing orange shoes, purses, clothes , all my world was pretty much orange. With this year's trend, I can finally wear as much orange without feeling like a weirdo, " just following the fashion".
Givenchy nail polish in Acid Orange is a tangerine - orange color, a bit closer to a neon orange. It looks lighter in some lighting and has a very high shine finish, like a top coat was applied. It's pigmented so no need to apply 2 coats.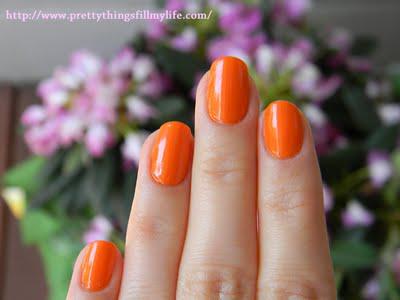 This is a mini nail polish weighing only 5,5 ml ( .18 Oz) with a lid larger and taller than the bottle itself. As much as I like Givenchy square packaging, having the lid attached to the brush makes it difficult to apply it . It does not fit properly in my hands.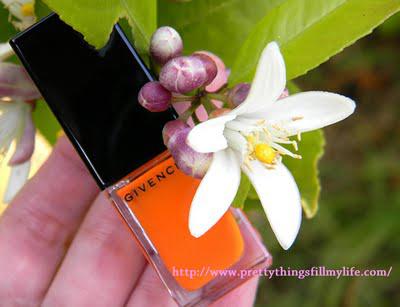 I don't know if it's the brush or the texture itself, but seems to get really messy if it's applied in a light layer, but odd enough it evens out once it's dry. It seems that the best way of using it is to load the brush with as much nail polish and not drag it more than twice. That way leaves you with a nice, clean, perfect look. It lasted more than 5 days without any chipping. I really love this color. It has so much depth and vibrancy, it's fresh and young and really screams summer.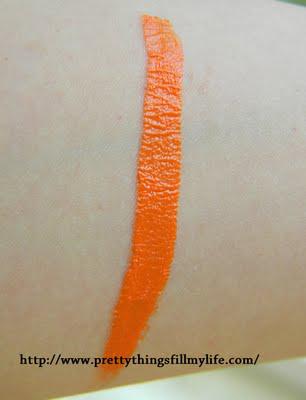 Givenchy Acid Orange nail polish Swatch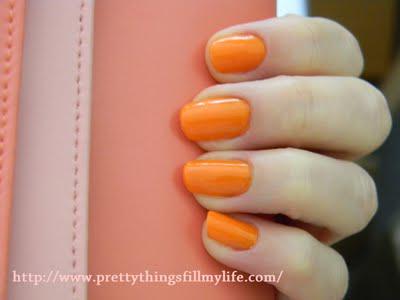 Lighter shade in strong lighting 
Price: $16,50
What do you think about orange nail polishes?  Would you wear this color?