I have been on WordPress for a little less than a year now, and I'm constantly learning something new.  At first, I missed the user friendly blogger, but I'm so glad that I decided to make the switch.  There are so many unique opportunities with WordPress and they offer such a variety of plugins to fully customize your site.  This post is intended to provide help to beginner wordpress users or blogger users that are considering the transition.  Here are my top 7 WordPress Plugins for Beginners.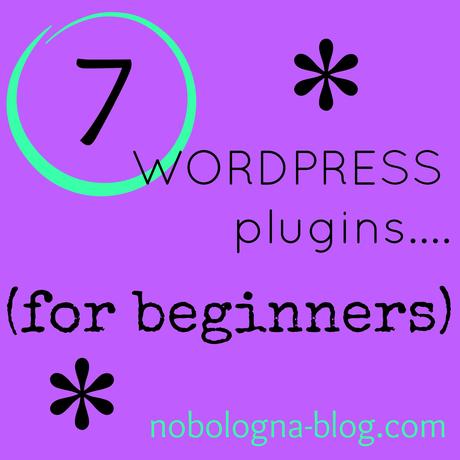 You know when you visit a blog and have to put in some kind of ridiculous security code or captcha to submit your comment?  We can all agree that it's extremely annoying, but I understand why people do it.  The amount of spammers out there are too many to count.  We want to know that the person responding to our blog post is an actual person who has an actual comment.  Anti-Spam protects you from spammers, but does NOT require a captcha.  Since installing this plugin, I've received zero spam comments and my readers have been able to comment with ease.
This may be silly to include in this list, but if you're a former (or current) blogger like myself, you'll appreciate it.  This simple plugin allows you to redirect your old blogger site to the new site.  I know this is blogging 101, but I mention this to encourage blogger users to make the switch because your old site can easily redirect to the new.
Another one of those current blogger plugins to entice you to the world of WordPress.  You can easily import all of your blogger posts & comments & everything in between.  So don't be scared!
This is a very new-to-me plugin.  I am hoping to increase the amount of recipes I put on the blog and I never felt like I was good at writing a recipe.  I couldn't quite get the "Directions" out in a reader friendly format and I never felt like my recipes flowed – enter Easy Recipe.  I'll admit, I'm still learning the best way to use it, but I'm pleased so far.  I can introduce a recipe, then simply input the ingredients and directions within the plugin and it auto-formats it for me.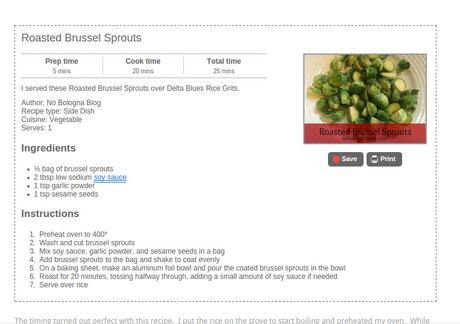 This is my favorite sharing plugin so far.  I like the way it looks at the bottom of my post and it shows how many shares it has with facebook, pinterest, instagram, and more.

It goes right below your post and right above your tags.
I have really enjoyed WordPress SEO.  It gives me a rating for each post regarding my SEO and it helps me mention my key word in various places that I may forget about.  You create your key word, then include it within the post, your title, your URL, and more.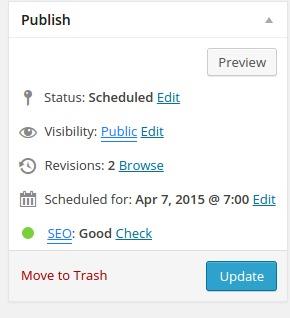 Yet Another Related Posts Plugin
I think having related links below a post is important, especially for your new readers.  They may really enjoy a post they read and want more.  With the Related Posts plugin, they have immediate suggestions of where to go next.  This also helps when people are searching for something specific on your site.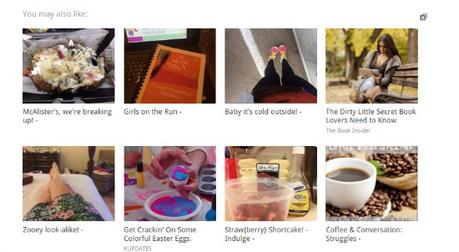 I like that it does pictures instead of just words. The only downside is that it won't show up on your home page, you have to be on a specific post page.
WordPress has not been perfect for me, we have had our disagreements, but I can certainly say that I'm able to do a lot more with my blog than I would have ever imagined.  There are so many things that you would have to "code" in blogger, that you can easily download a plugin for in WordPress.  The biggest complaint I had with WordPress was when my comments didn't seem to be working and then come to find out… they had been going to my spam inbox for MONTHS!  Once that was resolved, it was smooth sailing.  Finding the perfect wordpress design is probably the hardest part.  Blogger made design so stinkin' easy!  Having a professional design your WordPress site is a lot more expensive.  I found that buying a design on etsy and tweaking it was the cheapest and easiest option.  They provide you with detailed instructions (usually) that help you make changes you want to make.  If I get bigger and better, then I'll consider the investment of a professional design.
I hope these WordPress plugins were helpful for all of you beginners out there!  I'm still learning so much with WordPress and I feel like the possibilities are endless.  If you're a Blogger user, but have considered the switch to WordPress, please feel free to ask me questions because I used Blogger for a very long time and was pretty adamant about not switching at first, but it was definitely the best decision for my blog.
Which Plugin would you find the most useful?
Do you have a plugin you can't live without that is not on this list?