273 Days.
That's how long it's been since my last blog post was published.
Almost a whole year, but not quite!
And Yes… I actually counted up the days correctly.  You know, using my knuckles to determine which months had 30 or 31 (and calculating 28 for February.)  You could say that I had a lot of time on my hands… or you could say I was determined to write a blog post finally and if I counted up how many days it had been, then I would have no excuse but to post that information for the world to see!
So here's the deal – I stay busy.  I like to stay busy.  And somewhere along the road, my blog fell to the side.  I have a husband & dog to care for (Huge points to those of you with children!  Because… How?), my Arbonne business to run, children to motivate & encourage through Boosterthon, biblestudy, social activities, running, traveling, & more!  I love it, honestly.  I also love blogging though and have been missing that frequent punch of keys to empty my brain out.
I've been having a constant battle between wanting to blog, but also not feeling like I have the time – maybe I should say, not choosing to make the time.  Why?  Because I honestly felt like I needed to post every.single.day.  Yes, Exhausting.  I have finally come to the conclusion that I don't have to blog every single day.  My goal right now will be once a week!  Let's see how once a week treats me and we can go from there because I miss it and I want it to be a part of my life, but I don't have room to make it a daily activity yet.
I am pretty excited about opening this little space back up!  If you're still following along (insert huge dramatic laughter here!) then I want to thank you for showing up and taking a few minutes out of your day to read this post.  I hope & pray you'll be seeing me a little more frequently and we can truly connect!  Connecting is one of the reasons I love blogging – making friends from all around the world!  It's a beautiful thing.
Until next week, I'll leave you with this…. a candid shot from our wedding back in February!  My goal is to blog at some point about a few details that made our wonderful day everything that it was.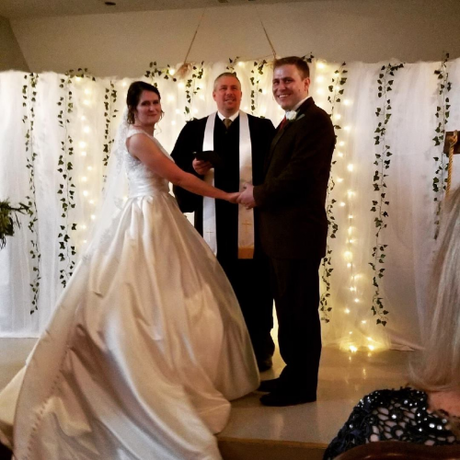 Have a wonderful Tuesday friends!