Always on the search for new Minnesota wineries, Scott's parents came across Wild Mountain Winery just outside of Taylor's Falls. It was one we had never been to and they seemed to really enjoy it. We needed to check it out! It was a good way to spend a rainy Saturday afternoon when my parents were up visiting.
What seemed like a very long drive out there was actually worth it, beautiful views and a winery that isn't too serious. Tasting was $5 dollars a person and you get a glass (much better than the plastic cups from earlier in the day!). Wild Mountain is a relatively new winery, owned by teachers and a few farmers growing the grapes. I really appreciate that they are passionate about trying new things and just figuring it all out.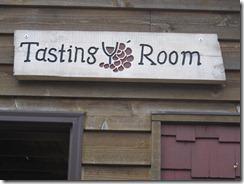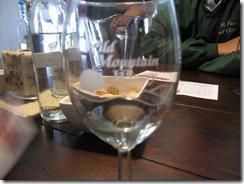 We selected our tastes so we would have all the wines covered, best way to see if you like a winery? Try all the wines they have. We did that pretty well. It was fun to see who liked what and how much our tastes varied. My Mom is a sweet white fan while Scott, my Step Dad and I really like drier reds. Scott's Dad? He will drink anything

Scott's Mom was driving so she had just a few sips of a selected few.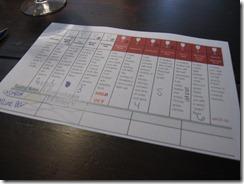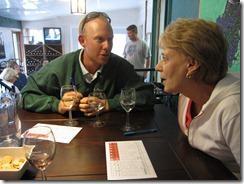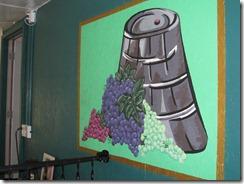 The Whites
Prairie Star- A dry, fuller bodied wine aged in American Oak.  More sweetness from the oak with a strong oak aroma.  Hints of vanilla and flowers.  (My favorite)
LaCrescent- Semi dry wine with a crisp tartness. (Acid)  Has full aroma of tart apple and apricots.  Finish is quick and clean.  LaCrescent is a University of Minnesota variety.
LaCrosse – A good quality, semi dry, clean fruity wine similar to dry Chablis.
Frontenac Gris- Semi sweet wine with strong fruit aromas.  Tropical fruits like pineapple and passion fruit.  Long finish. University of Minnesota variety.
Elmer's White- A blend of Kay Gray, ES 9-2-44 and Shannon, varieties developed by Elmer Swenson.  ES 9-2-44 is very similar to Sauvignon Blanc.  Kay Gray is a fruity and aromatic wine.  Blended they make a delightful, fruity wine. (I love the teacher reference in this, such a cute name!)
The Reds
Arrowhead Red- A medium bodied red wine made from the Marechal Foch grape.  It has the pleasant aromas of cherries and stewed fruit.
Frontenac Rose- Semi sweet rose colored wine made from the pressed juice of the Frontenac grape.  Very fruit forward with a delightful finish.
Rustic Red- A medium bodied red wine with full fruit expression of dark fruit, cedar, leather and smoke.  Some can find aromas of tobacco!  More tannins than the other reds.  St.Croix grape varietal from Elmer Swenson.
Frontenac- Light bodied red wine with fruit forward aromas of ripe berries, cherries, currants and hints of cedar and spice.  Made from the University of Minnesota's Frontenac and Elmer Swenson's Sabrevois varietals. 
Wild Mountain Red – A semi sweet, light bodied red wine made from a blend of Valiant, King of the North, Beta, Bluebell (a Concorde like grape), Frontenac and Sabrevois, an Elmer Swenson grape.  Leaves you with a semi sweet, "grape" flavor.
Sabrevois- A light, fruit forward, nouveau style wine.  Has aromas of strawberry, cherry and light oak. (My favorite, such a great lighter Summer red)
Specialty Wines
Aurora- A sweet, port style wine with 18.5% alcohol.  Potent aromas of chocolate covered cherries and ripe berries.  Goes very well with dark chocolate or a good cigar! (I don't love port and this was really good)
Ice Wine- Yet to be officially named, this was their first year trying it and we just so happened to be there as they were bottling and we all got a nice sample of this. Pretty good for their first try and it was somewhat fitting to be trying their first batch of ice wine out of a pitcher.