One of the questions I get from friends a lot is, what should I buy for wine. Can I answer that for every person who asks that? No. But I can give a few tips to point them in the right direction.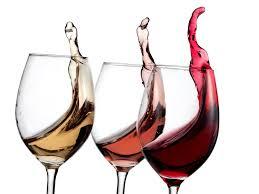 Things to Think About When Buying Wine:
What do you like? Red, white, rose, sparkling, sweet, dry… It can seem overwhelming but it doesn't have to be.
How do you even figure out what you like? Tastings, buying bottles and drinking it. That simple. You don't know what you will like until you start trying different kinds. When I first started drinking wine almost 10 years ago I liked sweet whites. But as my palate grew and I figured out other things I liked I found myself truly enjoying a glass of cabernet sauvignon. And not years later but only a few months. While I don't choose a sweet white often I do have a soft spot for New Age. (Often less than $10 a bottle and a very sweet moscato style wine).
Where do you find tastings? Check local liquor stores, search online, ask around. But until you go to a few tastings it is really hard to figure out what you like. I started with tastings at liquor stores, asking a waiter for a recommendation, picking up a book or two on wine. But I can't stress enough that the key is to just try many different kinds. And if you don't like it, that's ok.
Don't just judge on the label. Yes a cute animal is a nice touch but that isn't something you should base a decision on. Look at the wine, what kind is it, where is it from, does the description on the back seem like something you would like.
The price. Is a $100 bottle of wine something special, probably. But will it be the best bottle you've ever had? Maybe. There is so much that goes into wine and sometimes that $10 bottle is exactly what you want. So pick something in your budget and think about the type of wine. You may not get a great pinot noir for $6.99 but maybe you like to a lesser known region and try something new. That new wine just might be your favorite.
And the most important thing to think about. Drink what you like. I can not push this enough. If you like a $5 bottle, than drink it. Just enough kinds and price points to know what you like. It makes being in the liquor store that much easier.