A break from all the cookie baking to bring you a complex, rich, ruby red Malbec. Fabre Montmayou Malbec from Mendoza.
I loved this wine but Scott was not a fan. Just reinforces that everyone's tastes buds are different. Drink what you like! If you don't like something don't drink it. Scott had a small glass and let me finish the rest over a few days.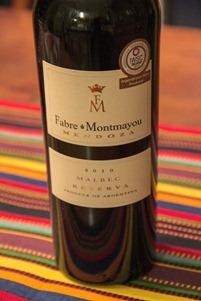 2010 and retailing for around $11.99. A good bottle for a Wednesday night, not overly expensive, sophisticated but not overly complicated.