We a mix of fall/summer weather I figured the 95+ degree day we had on Monday was a good excuse to break out a bottle of New Zealand Sauvignon Blanc. We grilled, had what will probably be the last local corn on the cob and enjoyed this refreshing wine.
A very true to type Sauvignon Blanc. Crisp, just the right amount of acidity, with notes of melon,  grapefruit, and a lovely straw color. As mush as I love summer and warm weather we are ready for some cooler days and heavy reds. At around $10-$15 this is a great everyday wine. Especially on those hot sticky days.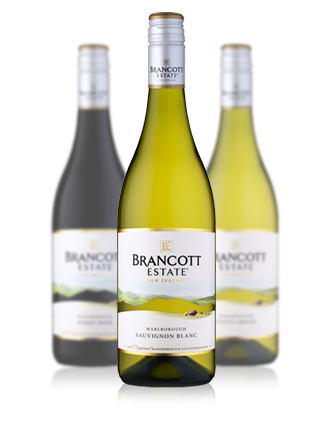 Have you had a wine cocktail before? They can be really refreshing and this is one we are going to have to try:
Brancott Berry
3 parts Brancott Estate Sauvignon Blanc
(or Chardonnay or Pinot Gris)
3 strawberries, chopped
1 part Gin (like Beefeater or Beefeater 24)
Agave nectar to taste
juice of ¼ of a lemon
Directions: In the bottom of a mixing glass, muddle
the strawberries in the lemon and agave nectar.
Add remaining ingredients and shake well with ice.
Strain over ice into a wine glass.
Garnish: strawberry slice on rim of glass
I usually have these ingredients on hand (at least in the Summer) Thanks to Brancott Estates for sending a bottle my way, we thoroughly enjoyed it!