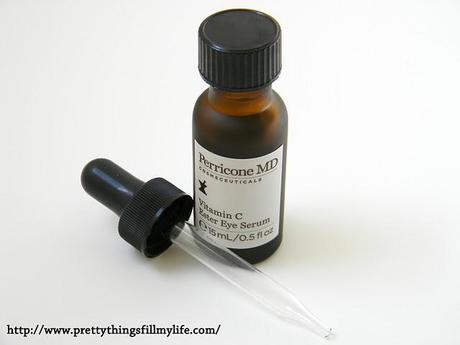 Let me tell you why I love it so much: 
It's a light, silicone-based product that is absorbed so fast into the skin (you wouldn't believe it, in less than a few seconds), and it does not leave any oiliness behind. I love the fact that it is so light, I can hardly feel it and I don't have to worry about getting milia from it. I usually develop milia with other thick, heavy creams, but it never happened with Pericone Vitamin C Eye Serum. When it comes to the smell, I think this one has a good combination of lemon / orange scent, but don't worry, if you don't like it it will fade away pretty fast. Also, what's great about Perricone Vitamin C Eye Serum is that it contains antioxidants like Vitamin C( Tetrahexyldecyl Ascorbate) and two forms of Vitamin E (Tocopheryl Acetate, Tocotrienols), and DMEA. Supposedly Tetrahexyldecyl Ascorbate is a more potent form than L-asorbic acid and has a higher rate of penetration into the skin. The skin around my eyes is pretty sensitive, but I did not get any reaction from it.
If you are interested in its ingredients here they are:


Cyclomethicone, Tetrahexyldecyl Ascorbate, Squalane, Tocopheryl Acetate, Bisabolol, Elaeis Guineensis (Palm) Oil, Tocotrienols, Parfum (Fragrance), Ethoxydiglycol, Tocopherol, Ascorbyl Palmitate, Dimethyl MEA (DMAE) 

Now here comes the bad part: 
The bottle is very tiny, so I was shocked when I got it out of the box; the box is 3 times bigger than the bottle. The product weighs 15ml / 0.5 fl. oz and measures only 7cm/ 2.7 inch. It lasts for a while, maybe a few months, but it depends how many times a day it will be used and how much of it is used. I don't use more than a pea size for both eyes and only once a day. After one month of daily usage, I still have half a bottle.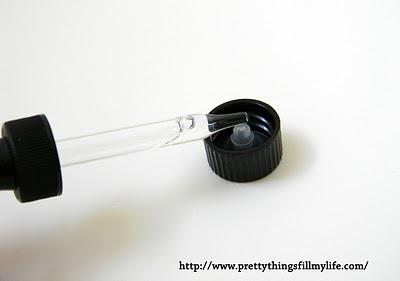 Perricone  Vitamin C Eye Serum comes with a dropper, so in a way it will be easier to control how much of the product will be used; however, I find it harder that way. I wish that the dropper would have been incorporated somehow into the bottle, and I would not need to switch between the dropper and the lid. Also, I tried to take only a small amount of product with it, but it always gets too much or none.
And here is the worst part of all.  Like any other Perricone products, it's highly priced. It's 50$ for that small amount,but it's an amazing skin – aging preventive product, with so many antioxidants, and other good qualities that it's really worth splurging on it.