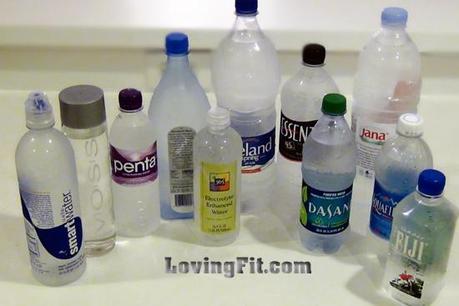 Several month's ago I got a little water measuring device that came with the new Water Filter I purchased. The device measures Total Dissolved Solutions ( TDS ) in the water ( it tells you exactly how purified water really is ). I have a post about it here.
Ever since then, I have been measuring all of the water I purchase (as neurotic as it sounds ).
When I was shopping in the store today I saw a lot of  overpriced Bottled Water and I wanted to investigate their purity.
In the end you can make a decision whether you are paying for the pretty packaging or great quality.
Just to let you know FDA requires Purified Bottled Water to achieve a TDS reading between 000 – 010. ( 0 being the purest, and as the number goes up, it's the least purest )
Here is a list of the most popular Water Bottles and their measurement of purity on TDS meter:


Jana
Price 2.49 per 1.5 L  -  TDS  188
For a bottled water to read a TDS reading of 188 is pretty disappointing to me, especially for the price tag. Because Tap water is 210, and Pur Water Filter is 170.
Voss
Price 2.29 per 375 ml  -  TDS 031
This is not bad at all compared to the one above, it's still a very expensive water. But this water gets more pointers with me because it comes in Glass Bottle, and you can reuse. A regular glass water bottle is around 10 dollars, and with VOSS it pays for it self.
FIJI
Price 1.29 per 500 ml  -  TDS 111
As popular as this water is, I personally don't think it's worth all the hype, because there are a much better quality water out there for a smaller price.
Essentia
Price 2.29 per 1.0 Liter  -   TDS 040
This is the first time I ever bought this water, and being the water fanatic that I am, this is nothing special.
Eternally Pure
Price 1.00 per 33.8 fl oz  -  TDS 048
As you can see it is also not the purest water, but the taste is not bad, the price is not bad as well compared to the other expensive water brands.
Iceland
Price 1. 50 per 1.5 liter  -  TDS 034
This water is nothing special and not the purest, the price is OK for a large bottle, but there are better water out there for a better price.
365 Water
Price .79 per 16.9 fl oz  -  TDS 024
I actually like this brand because they provide a lot of organic produce for a smaller price. This water is very inexpensive and as you can see it more pure then the brands above.
Smart Water
Price 1.69 per 23.7 fl oz  -  TDS  021
Still not the purest, but since celebrities endorse this water it is the only reason why it's so popular.
Dasani
Price 1.19 per 20 fl oz  -  TDS 016
This water is actually one of the least expensive brands and it's been around for a while. They also recently started recycling their bottles. So you get a good quality water and you are helping the environment as well.
Aquafina
Price 1.19 per 20 fl oz  - TDS 002
As you can see, this is the least expensive and purest bottled water. This was a big surprise to me, because I didn't think the least expensive water would be the purest.
Penta
Price 1.49 for 16.0 fl oz  -  TDS 000
This water is the purest Bottled Water I measured  but as you can see it is also pretty expensive.
This water got it's fame from celebrity endorsements and it also supposedly helps to grow your hair, and makes you skin glow. But in order to get those benefits you would have to drink a box of this water every day ( about 15 dollars worth ).
( BTW I am not promoting any of these brands, I am just investigating

)
There you have it, as you can see just because a water is expensive doesn't mean it's the purest. And I personally prefer my water to be Pure ( I don't want it to be enhanced with anything ) and I also don't think it should cost you Arm and a Leg.