Today was my 9 week weigh in at Weight Watchers – time is flying by! And I stayed EXACTLY the same to the ounce! Isn't that weird? You can eat different foods do different work outs and it all stays even. BUT with my birthday and my sons birthday last week – I guess I should be happy to not have gained! I did great this week – said NO to a lot of temptations and planned ahead, so I'm just staying the course!
Breakfast was kind of a repeat – 1 Whole Grain waffle, 1 banana, 1/8 cup Smuckers Sugar Free Syrup, a hard boiled egg and 3 oz. of roasted potatoes.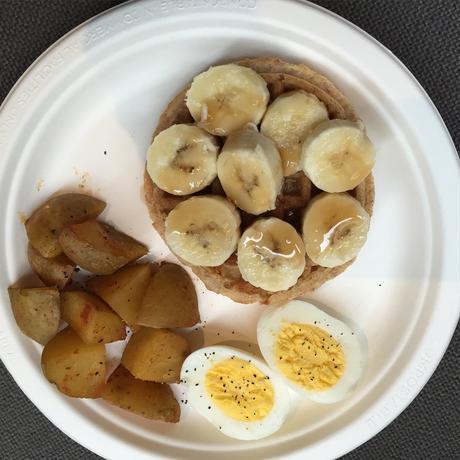 SEVEN Smart Points for this delicious breakfast!
Yesterday I made pasta with meat sauce for dinner and I had a lot of sauce left over. When I was thinking about what to bring for breakfast and lunch – I thought – I have a spaghetti squash that I need to cook up! I washed the outside, wrapped it in foil whole and baked it for 1 hour at 350. I let it cool on the counter and actually brought it to work whole!
Once it was lunchtime, I cut it in half, scooped out the seeds and using a fork shredded the inside into a big bowl. Next I added a little over a cup of my homemade meat sauce and heated it up for 2 minutes in the microwave. The spaghetti squash is ZERO points and my meat sauce was only 3 Smart Points for this huge bowl.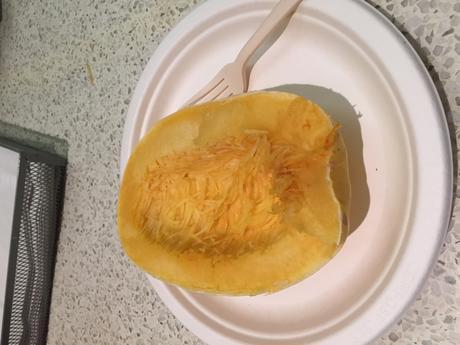 ZERO smart points for spaghetti squash!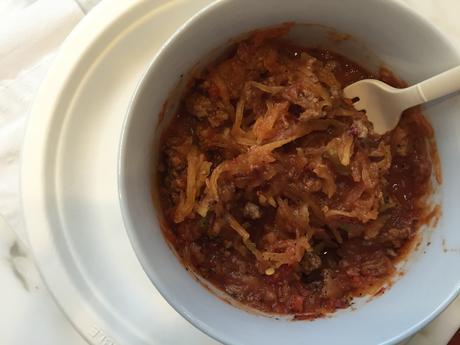 3 Smart Points for this giant bowl of Spaghetti squash and meat sauce
By 4:00 o'clock I was really hungry – Weight Watchers is trial and error – until you get it right, so be prepared if you find yourself hungry – you should never be hungry losing weight – especially on Weight Watchers since fruits and veggies are zero, but I didn't have that, however my co-worker Lisa stocks Quest Protein powder in her desk, it comes in single serve packets and when I scanned it using the Weight Watchers app – it was only 1 Smart Point!! You just mix it with 8 oz. of water. She also brought a baby magic bullet to work and I filled that with the water, the chocolate protein powder and some ice and it came out like a milk shake! I wished I had a frozen banana and some unsweetened almond milk – that would have made it even more creamy!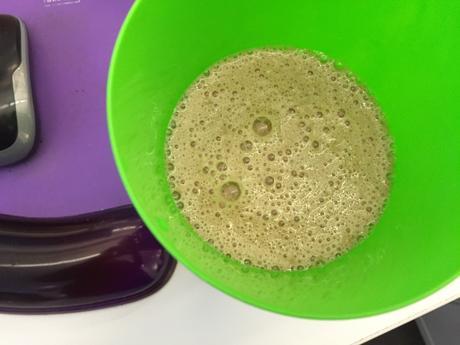 Quest Chocolate Protein Powder shake only 1 Smart Point!
Since I make a home made meal every night and I don't get home until like 6:00 – 6:15 at night – I've started prepping for the next nights dinner so I can cut down on the time it takes to get dinner on the table. When I was chopping up veggies for my meat sauce last night – I cut the veggies I needed for this enchilada quinoa pasta bake – from Damn Delicious! This dish has been pinned over a million times! So I knew it had to be good! I did revise a few things to make it more Weight Watchers friendly.
Damn Delicious Quinoa Pasta Bake
Servings
6
Ingredients
2

cups

quinoa

cooked

1

10 oz. can

red enchilada sauce

1

4 oz. can

diced green chiles

1/4

cup

green peppers

diced

1/4

cup

white onion

diced

1/2

cup

kidney beans

drained and rinsed

2

tablespoons

fresh cilantro

chopped

1/2

teaspoon

cumin

1/2

teapsoon

chili powder

1/2

teaspoon

black pepper

2

oz.

cheddar cheese

grated
Instructions
In a medium sized pot - add 1 cup of quinoa with 2 cups of water. Heat until boiling, then simmer -covered for 15 minutes. set to the side.

In a casserole dish safe for baking, add 2 cups of the cooked quinoa, the rest of the ingredients (except cheese). Stir to combine. Sprinkle the top with the cheese.

Bake at 375 degrees for about 25 minutes until hot and bubbly
Recipe Notes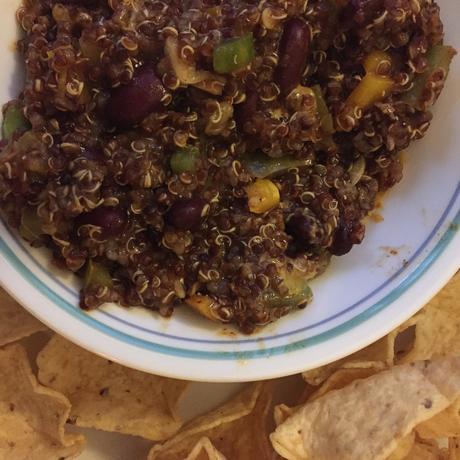 Quinoa Enchilada bake - 5 Smart Points for a 1 cup serving
This dinner was delicious! Since I had the points - I served mine with 7 SP worth of tortilla chips! You could also serve these with flour or corn tortillas, or stuffed in a green pepper, or as a side dish with grilled chicken.