Today's career fashion tips are contributed by reader Maggie Thistleton.  During the day, Maggie works for AffordableStyle.com, where she gives fashion tips for any budget. In her down time, she enjoys listening to music, trying new recipes, and traveling.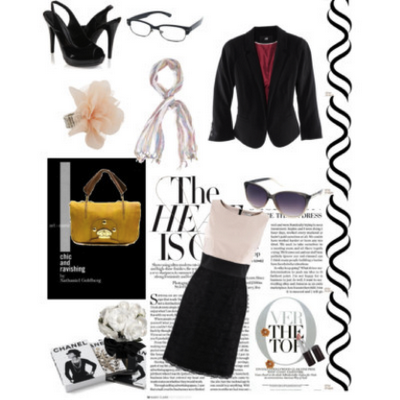 . heels . eye glasses . ring . scarf . blazer . handbag . dress . sunglasses .
Your first professional job can be intimidating. What will your coworkers be like? Will you love your job? Will you be able to handle the stress of multi-tasking, while maintaining a social life? But one of the most important questions is … What should I wear?!
Luckily, many stores like H&M, Forever21, even Target, are offering many stylish career looks for an affordable price. Not only do they sell clothes, but the accessories to go with the outfit.
For your first few days on the job, it is smart to dress up, just to get a feel of the dress code. You may have just entered a jeans-and-t-shirt environment and get a few looks, but your new co-workers will know that you care about your appearance and that you will put some effort into this job. A neutral dress, black heels, and a black blazer to cover up will never look bad!
To kick this outfit up a notch, it's all about the accessories! For this look, I've kept it neutral, except for the bold, mustard handbag. A scarf can keep you warm if the office is a little chilly, can be used as a head wrap, or tied around your neck in a cool way (hint: scarves.net has some good videos on how to tie scarves). The pink floral ring adds just a touch of girly accent, without going over the top.
This look can also transform from day to night. Ditch the blazer and scarf, and pair this look with a silver necklace for a look that will have you leaving the office looking great!
Readers:  What should a new professional wear the first day on the job?