True story.  Other than my driver's license, my debit card and a few other things, it is almost all lip products.  At least my pout is prepared for nearly any situation life can throw at me.  I've never done a post like this before, and I thought it would be fun.  Us girls are always interested in seeing what goods are in someone else's purse.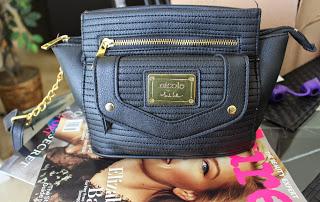 The purse itself is from JC Penney and is Nicole by Nicole Miller.  It is a simple black cross body.  It is kind of on the small side, but I have reached a point where I don't like carrying a large bag with me.  That is kind of ironic as I am about to switch into a larger bag. It is actually on sale for $36 right now.  While I do like this purse, there are a few parts where wear and tear is showing, and I've had this purse since January, I think??  For example, pieces of the strap are constantly coming off.  They look like small pieces of leather that I find all over the house and in my car. And the chains are already tarnishing. Boo.  Anywho, if you are interested you can find it here.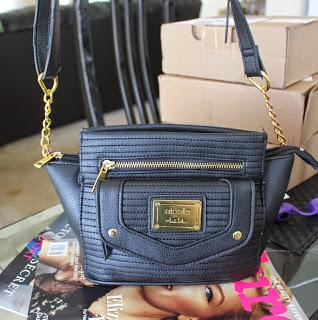 Other than my driver's license and debit card, my keys are the most important thing in there.  I always try to keep them in my purse so I can get to them easily. Otherwise I would have a panic attack. And in case you are curious, I drive a 2015 Honda Civic EX Coupe that I adore. It is my baby. And it needs a bath as soon as this rain gets out of here. I hate a dirty car. Enough random facts about me, so moving right along.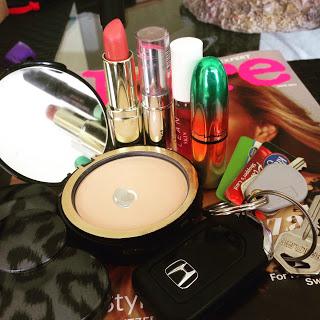 Of course hand sanitizer is a must. No one wants germy, disgusting hands.  I am currently using the Farm Stand Apple PocketBac from Bath and Body Works.  The scent isn't unpleasant, but I am not particularly found of it. The sanitizers from The Body Shop are my favorite because they don't have such a fake, sweet scent. But this does the job. Plus the size is convenient.
Too Faced Cocoa Powder Foundation is my favorite powder foundation.  I always have this with me just in case of emergency, and for touch ups. Plus it just smells good. Thank you, Too Faced for making a foundation that smells like chocolate. Typically, I will apply it after working out and I'm going to run errands afterwards.
Naturally, my iPod and iPhone.  I generally like my music separate from the rest of the stuff on my phone for some reason. Plus my phone doesn't have enough memory for all of my music and photos. But that is about to change in the coming days.
It Cosmetics Bye Bye Pores translucent powder just because every girl needs a translucent powder in her bag. Oil slicks are never okay.
I have an adorable Hello Kitty bow mirror that my mom got me from Sephora.  It has leopard print on it and because it is black and grey, it will go with any bag. And it does not take up much room. It is in the above picture.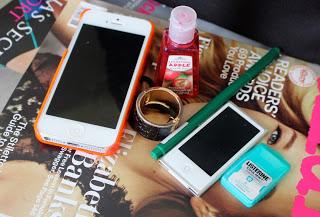 I have various kinds of medicine, including Benadryl, Advil, Pepto Bismal, Tums, eczema cream, and my inhaler. You never know when something can happen. A girl needs to be ready for anything and everything.
Listerine PocketPacs. I hate the taste of these. The only reason I have them is because they came in the last Vox Box I got from Influenster (you guys rock!).  I have found a much better alternative by 32 Oral Care called ev32 Effervescent Breath Treatment. They are like peppermint pop rocks that clean and freshen your breath. Cool, right? I need to order some more because I am fresh out.  I found these on Nordstrom because they had it as one of the samples you could choose from.
Now to the hoards of lip products I have in this thing.  I laugh every single time I open my purse because no matter how many times I clean it out, I somehow always end up with a gazillion lipsticks, balms, and glosses in here.  If you have lipstick missing, it just might be in my purse. Haha. This is the part where you may want to grab your beverage of choice and sit back and relax. I never realized this, but almost all of these are similar in color. I didn't realize how many nude pink shades I had.
Kari Gran's Tinted Lip Whip. I LOVE this stuff. 
MAC's Creme Cup. I love applying this over ColourPop's Lumiere Lippie Pencil.
MAC's Steam Heat from the Wash & Dry Collection
ColourPop Lumiere Lippie Stix
ColourPop Westie Lippie Stix
Milani Nude Creme Lipstick
Too Faced Melted Metallic Tu-Tu. Beautiful color, not sure about the formula on me. 
It Cosmetics Je ne Sais Quoi Vitality Lip Flush. This stuff is pretty neat. It looks clear, but it changes to the perfect shade of pink for your skin tone. Also, it is nicely moisturizing. 
A mini Kat Von D Everlasting Liquid Lipstick in Berlin
NYX Soft Matte Lip Cream in Milan
Hourglass Icon Lipstick (my favorite blue based red)
Cover Girl Outlast Longwear + Moisture Lipstick in Phantom Pink (review up soon)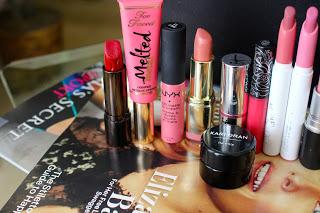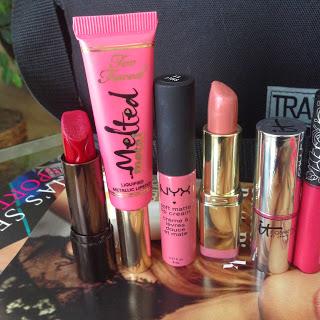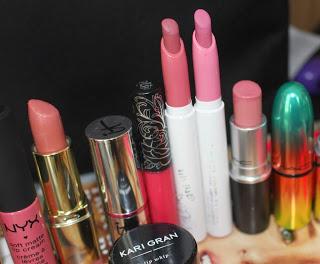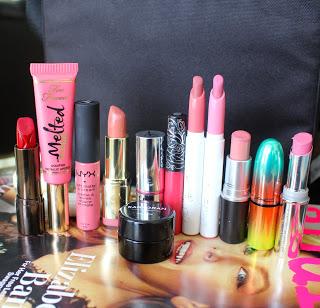 Icon, Melted Tu-Tu, Milan, Nude Creme, Je Ne Said Quoi, Berlin, Lumiere, Westie, Creme Cup, Steam Heat, Phantom Rose and Kari Gran in the front.
I also have the NudeStix Matte+Blemish Pencil, which I use when I'm not wearing makeup. It keeps my t-zone from getting greasy and helps heal minor pimples.
Travel size perfumes and samples are an absolute must have for me. Right now, I have three that I carry with me in case I forget to spritz on perfume.  I have Clean Skin, Hanae by Hanae Mori, and Tom Ford's Velvet Orchid.  Velvet Orchid is my favorite fragrance right now and I love Hanae enough to buy the full size. I also have a bottle of peppermint essential oil.  It helps me feel revitalized and alert.  Plus I just love the smell of peppermint. 
Pens, duh. Well, a lone green pen by Le Pen that I bought in my campus bookstore. Not really a big deal.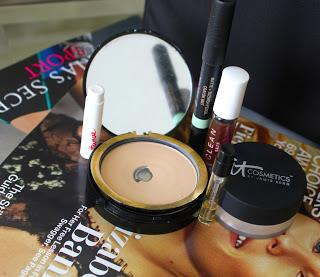 Despite that amount of stuff I have in my purse, it isn't anywhere near as heavy as you would think.  Or it is entirely possible I am just acclimated to it.
Do you have copious amounts of lip products in your bag? Or am I just the crazy lipstick lady?  If the latter is true, I am more than okay with it.
I hope you enjoy the rest of the day!