Anyone who has shopped at Boots recently, will probably have found themselves the owner of a voucher for £5 off No.7 products. Having spent far too much money at the end of August on a pair of new glasses and prescription glasses, I felt that I'd really earnt my voucher and went on a mini mission to actually spend it for the first time, in about ten years.
Nope, that isn't a use of hyperbole there, it really is ten years since I last took advantage of a money-off voucher for No.7 and that was a Sun Protection Lipstick for anyone who might possibly be interested! Unfortunately, that one purchase tainted my early cosmetic life, because I just remember standing in Boots, in Lincoln with my voucher in my 17 year old hand, thinking "oh my life, this stuff is so expensive!" Needless to say, I've never bothered with the vouchers since then!
So, I took a browse and I ended up buying this, because as my mom pointed out, I had been saying that I couldn't keep using the Konad Top Coat I have forever!!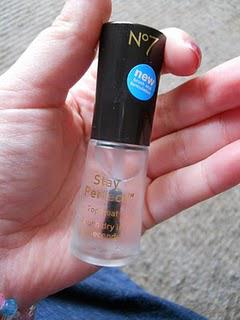 If it looks like the bottle has condensation on it,
that's because my nail polishes have a special
compartment in my Fridge ;)
But, not happy with my purchase of a mere Top Coat, the nice man in Boots promptly gave me another one...!!!
This is actually the second time that I have used a Boots voucher (for another brand) only to be given another one of the same voucher!! Spend a voucher, get another one. Sounds like perfection, or an evil ploy for me to spend more money.
However, when you consider that one polish is £7, so after the £5 reduction you're only paying £2 which is cheaper than the majority of other "cheaper" polishes, so you have yourself a darn good bargain. So, you know what? I went back, and I bought another polish!!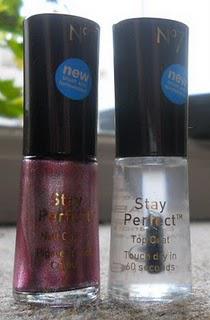 Aww, don't they look lovely together.
The color is Milan, which is a gorgeous, pale and metallic pink shade, which is very very sparkly and I absolutely love it!!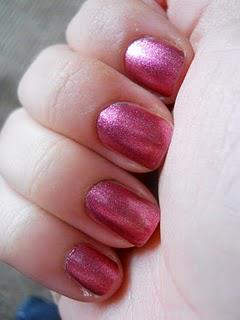 LOOK! LOOK! I have nails!!
The only thing that I don't like about this polish is that on the second nail from the left, there's a bit of area that appears to be condensed with the silver metallic colour, which is a little annoying, but overall, the application was pretty much flawless, looking great after one coat, although I used two.
What do you think of the colour? And, what have you been spending your No.7 vouchers on? Also, do you think Boots has gone a little No.7 Voucher crazy as of late? I'd love to hear your opinions on that :)

PS: This post was inspired by Betwixt Beauty: it isn't stealing, it's inspiration ;)