Does anyone else still think to themselves "Wed-NES-day" while typing out that word? Please tell me I'm not the only one.
Another round of WIAW! Love these days! I discover so many new blogs

Thanks again Jen!!!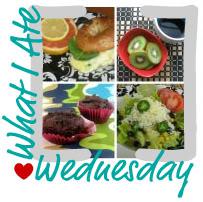 Lets get started.
Breakfast (6:15am)
I bet you guys can't see this one coming….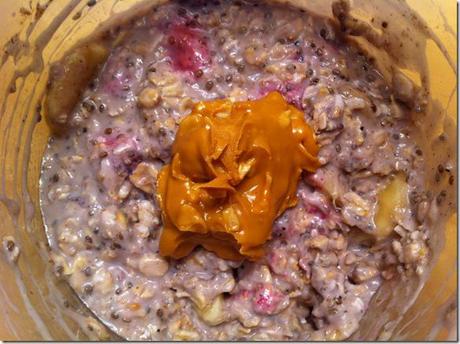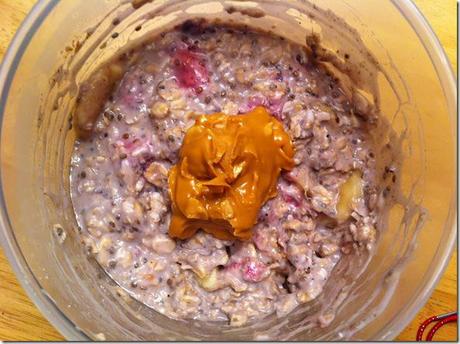 Yup, overnight oats once again. I don't know how my hair tie got into the picture? I didn't have that for breakfast.
1/3 C. Rolled Oats

1/3 C. Almond Milk

1 small blueberry Activia (Dannon)

About 1 tbs. of Chia Seeds (I didn't really measure)

1/2 banana

About 2 tbs. Frozen Raspberries

Blob of Barney Butter<3
Into the fridge and woke up with a delicious meal waiting for me. Plus some coffee, obviously.
Snack (11:15am)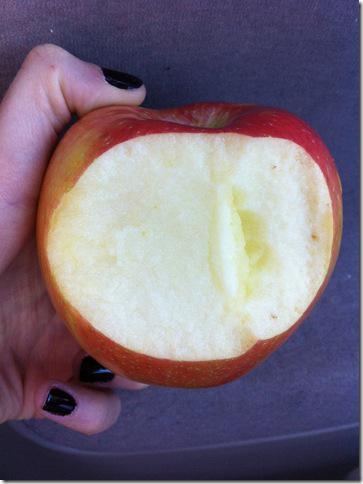 Honey crisp, baby. One of the best apples I've had in my entire life right here.
Lunch (12:30pm)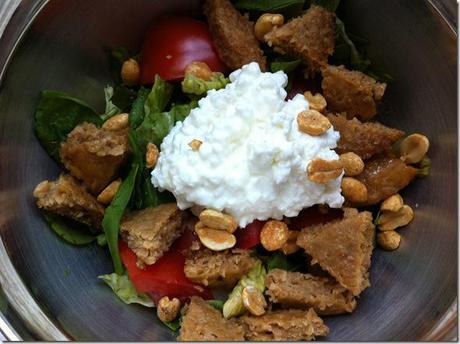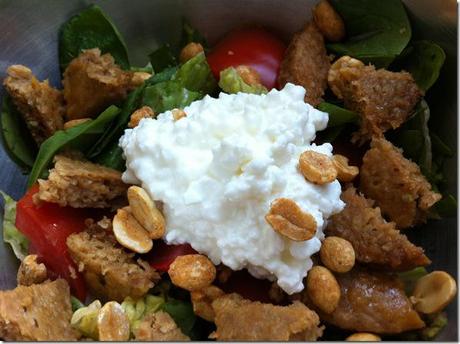 Romaine + Spinach salad, tomatoes, veggie burger, peanuts, cottage cheese.
Snack (4:45pm)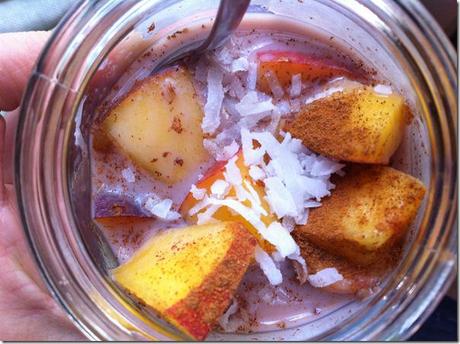 I never snack this late but I had a workout planned for 6:30 pm and knew I wouldn't be home till after 8! So instead of risking getting hungry during the workout, I had this snack. I was also a bit hungry.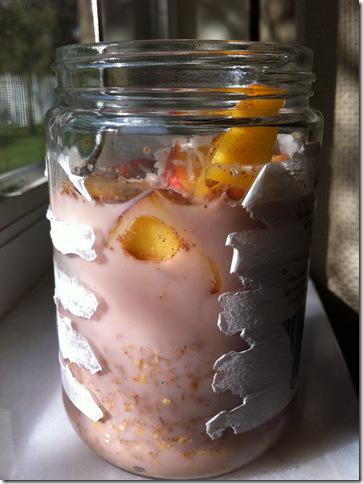 Empty and clean Jar (no nut butter) I just wanted to use a smaller container instead of dirtying a bowl.
1/4 C. Ezekiel Cereal

1/4 C. Quaker Oat Squares

About 1/4 of a peach

Cinnamon

Pinch of coconut

Chocolate Unsweetened Almond Milk
Just enough to hold me over but not too heavy!
Dinner (9pm)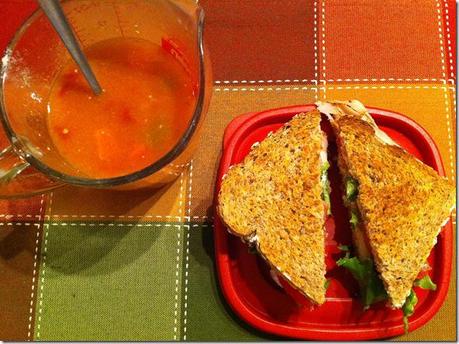 This looks ridiculous, but I can explain. No clean dishes. Way too late to care. Results in a measuring cup for a bowl and a Tupperware top for a plate.
Soup and turkey sandwich on Ezekiel bread. Easy for a late bite.
I had another apple afterwards, but this time a gala. Definitely wasn't as good as the honey crisp but still good!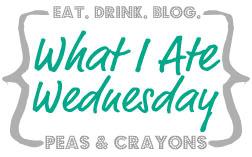 Do you snack if you know you will be home late?
What is your favorite apple?