I read all the time when anyone is starting to eat better, lose weight, eat less sugar or whatever the biggest dilemma is "What should I eat?" I love to cook, obviously and even more I love to grocery shop – but for many people that is not the case. So, I'm hoping by showing my easy meal ideas it will encourage someone to try something new or think of possibilities they didn't know existed.
For those of you who are Weight Watchers members – did you know that Oprah does a 1 hour call every month? It's broadcast live, but if you miss it you can listen to a recorded version whenever you want. I listened to it last night – Oprah talks with other Weight Watchers – this call was talking to people that lost 100 – 200+ pounds! It was very inspiring – especially one woman who had lost 100 pounds in a year. She said she had weeks where she gained, but she re-evaluated what she could have done differently and just.kept.going. The other thing that people mentioned who were successful was that they put themselves first – making sure to carve out time to prep meals, move more. Oprah said that she starts every day with just 10 minutes of meditation. She said if you don't have TEN minutes to devote to meditate or just relax in your thoughts – then you have to rethink your priorities!
As I was walking to the train this morning – I was just about to walk up the stairs when the train came and I missed it. Normally I would be bummed about it – but in reality it's a 10 minute wait. And I usually stand at the end of the platform where no one stands and this was my view. So I enjoyed my time looking at the Chicago skyline and was thankful I have a great job to go to and good food to eat.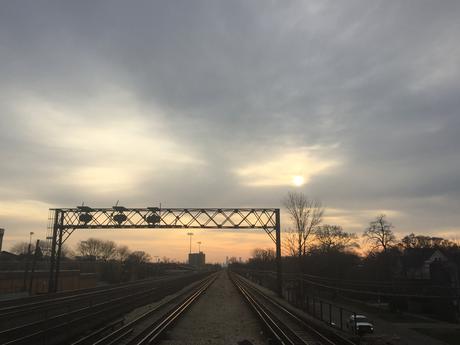 I always bring my breakfast to work – I don't have time to sit down and have a leisurely breakfast before getting 3 teenagers out the door, but when I get to work I heat up my breakfast and I'm able to eat slowly while reading emails and figuring out my day. I had a repeat of yesterday! I had 2 of my veggie egg cups at 3 Smart Points each. 3 turkey sausage breakfast links for 2 Smart Points and a cup of strawberries. My total for this breakfast is 8 Smart Points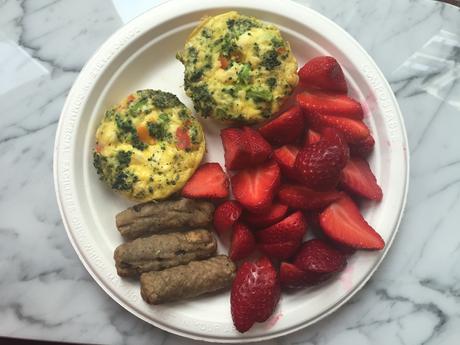 Now I am mostly organized, but if I don't prep food the night before – It's sometimes hard to figure out what to make in a pinch – I didn't have time to make something deluxe – so I decided I would do Chipotle for lunch. But Jennifer – isn't Chipotle a lot of Smart Points you ask? It can – but my chicken bowl is only 8 Smart Points.
In my bowl is chicken, 1/2 the brown rice, 1/2 the black beans, fajita veggies and lettuce with a side of green salsa. It's amazing! I figured out the points for my bowl using Chipotle's nutrition finder. You can add in each ingredient and it adds it up for you. I started to think about a website that was popular when me and my twin sister Biz and I first did Weight Watchers back in 1999 – it was a site called "Dottie's Weight Loss Zone". It was a great resource especially for restaurants – and wouldn't you know it, it is STILL active and has even more information and she's updated it with Smart Points – check out Dottie's web site HERE.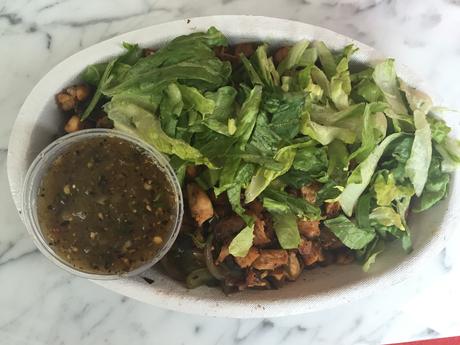 Before lunch I decided to get some steps in, so I walked around outside my office, then headed to Macy's on State Street to check out the flower show on the 9th floor going on for the next few weeks. It was beautiful to see the flowers. It made it seem like spring!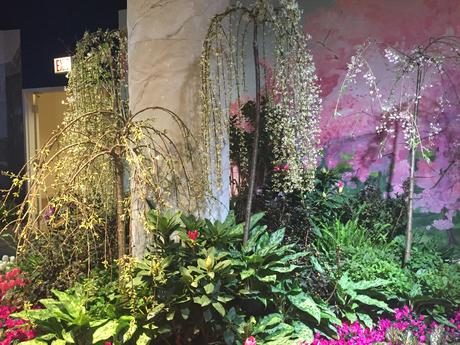 So by the time I got back from lunch I was at 10,000 steps! My office is big so I also can clock in a lot of steps just by walking from my desk to the copier, to our lunch room. And I've been getting off 4 stops before my usual stop on my way to work to get steps in that way as well. It all adds up!
Now – onto dinner! My daughter's FAVORITE meal since she was little was my ham/macaroni and cheese. I make it at least 1x a month. I lightened up my version so it's 9 Smart Points for a little over a cup.
In a large pot, boil water and cook 16 oz. of whatever shape pasta you like. Tonight I used Ziti pasta. In a medium pot I added 1 tablespoon butter, let that melt on low heat, then add 2 tablespoons flour and mix with a whisk for 1 minutes. Add 2 cups skim milk, adding the milk slowly. And this is the part that takes a while – you have to whisk it pretty consistently for 8 minutes. The sauce will thicken and get bubbly. Once that's done, I turn off the heat and add 6 oz. sharp cheddar cheese, stir until that's all melted into the sauce and tonight I added a 7 oz. package of black forest ham (like the kind you make sandwiches with) and chopped it up and added it to the sauce. Once the pasta is done, drain the water, put the pasta back into the bigger pot, add the cheese and stir. I usually taste it and decide whether to add salt after (the ham is usually salty enough) but I always add cracked black pepper.
At this point it's ready to eat – although if you wanted to, you could add this to a casserole dish, add more cheese and bread crumbs on top and bake at 375 for 20-25 minutes. (although you have to add more points for the extra cheese and bread crumbs!).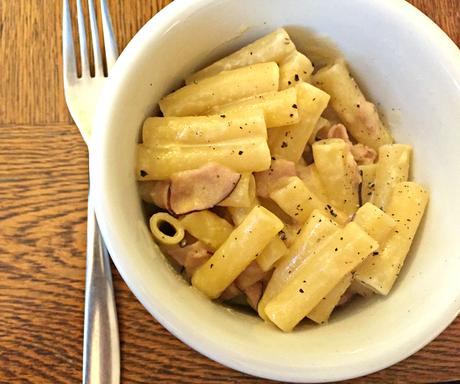 My downfall pre Weight Watchers is having seconds at dinner. I generally cook more food than is needed, since I have 3 hungry teenagers and my husband eating – I always want to make sure they get enough! But if I eat slower, then they will have seconds and most times the food is gone, so I don't have to worry about it. Or, instead of having seconds, I'll put a serving in a Tupperware and I've got lunch for the next day.
All in all – a great eating day! Now to prep good food for tomorrow – I'll have 2 challenges, we have a catered breakfast every Wed at my office – last week was, and I am not joking – fried chicken and waffles! What the heck? And I had none! We are also having an all staff meeting and pizza is going to be served. So I know there will be salad – I have my own dressing – I'm thinking of having 1 square of pizza, chop it up and make a pizza salad

If you work from home or go to an office – do you bring food from home or go out?
AND – if you got all the way down here – I got my hair cut over the weekend – I haven't had bangs in like 15+ years!