I thought it would be fun to do a little wrap up each week. Something informal that can include anything from highlights of the week to random thoughts of the week. I do know that I enjoy reading about what my favorite bloggers get up to in their daily lives and I also love doing posts such as My Mid Year Stock Take and 10 Random Questions so I hope you enjoy these posts too x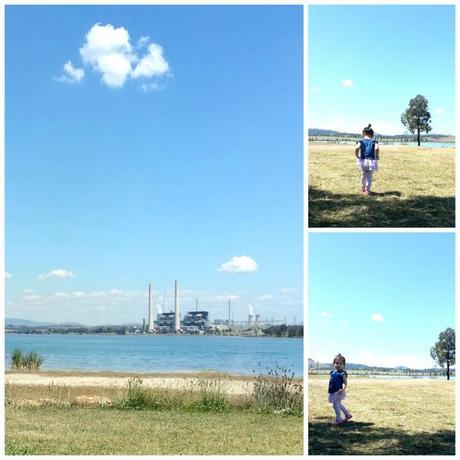 Highlight of the week?
Most days, bub and I are just pretty bored and lonely. I made the effort to do a little exploration with her this week. We went to a lake nearby and had fun just observing a flock of geese amongst other birds and insects… watching people jetski… kids on canoes… taking in the quiet and calm… watching a couple of elderly men fishing in the distance. It was such a beautiful day and the sky was just stunning. Look at how blue it was! I should really make the effort to do that more often with the kids.
Random Thought:
I am really surprised by how much my daily productivity has improved by consciously utilizing my daily planner. I almost plan my day to the minute (well, 30 minutes probably). It sounds crazy and things don't always go to plan but it's working great for me so far to have an idea of all the multiple tasks in a day.
Something serious on my mind this week?
I took my little one to register at preschool this week. I wasn't surprised at all that she was the smallest. She will also be the youngest. When school starts end January, she would only just turn 3 whereas most of the kids are 4 turning 5 or 3 turning 4. Due to lack of government subsidy, they have had to combine the 3 year olds with the 4s and 5s so there will be about a small handful of 3 year olds in each class. I'm really hesitant about the arrangement because I just feel like she is so tiny and vulnerable to be in an environment with bigger and older 4 to 5 year olds. I know parents in general feel like that about their child and it's normal to hesitate. But I'm just worried about it becoming a frightening experience for her that might put her off  school altogether.
Something I Learned This Week:
Kids are really learning and observing even when you don't realize it.
Something I Want To Improve On:
I would like to set aside some time to read. Reading is nourishment for the soul.
Quote for the Week:
"When we give cheerfully and accept gratefully, everyone is blessed."
― Maya Angelou
Hope everyone has a beautiful weekend x
What's your highlight for the week?