With 3 kids (including a preschooler and a baby) in tow now, a good diaper bag is always a priority for me. There's nothing like a good spacious, durable bag to chuck all of our essentials in. With diaper bags, one of my pet hates are super bulky ones that have no shape to them, lump everything together and make it an absolute nightmare trying to search for anything (You know the drill. The dummy ends up at the bottom of the mess when you have a crying baby. Or wet wipes are impossible to fish out when you need them.) I love being organised so having an organised diaper bag is a must. Have I even mentioned about style? A trendy diaper bag that complements any outfit and any occasion is even better.
Having mentioned so many criterias, you'd be able to tell that I'm super picky. It's definitely not easy to find one that suits all my criteria so I was really thrilled to find the Storksak Noa Diaper Bag!
About The Storksak Brand
​This award winning brand was founded in 2003 and is known for their luxury baby changing bags. Storksak's take on diaper bags is "'A Place for Everything, and Everything in its Place" which is perfect for what I'm looking for. Today, we'll have a look at one of their latest releases - the Storksak Noa in Stripe Fawn.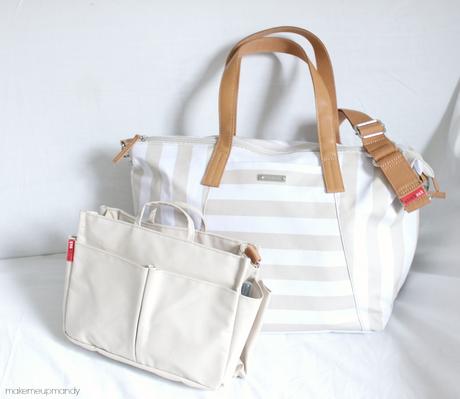 Features
​Storksak bags are like the most thoughtful diaper bags (Totally used an adjective to describe a bag there). It's like they've really thought of everything a mom would want and need. Features of this Storksak Noa bag include integrated stroller straps, interior pocket plus exterior pocket, thermo-insulated zipped bottle pocket. I know, these are pretty basic for most mid range diaper bags right? But what sets this Storksak Noa apart is its premium leather trim, luxury padded changing mat, luxury leather handles, complete with finishing touches of silver hardware throughout. Let me tell you - this bag is elegant and it truly is as good as it looks in photos.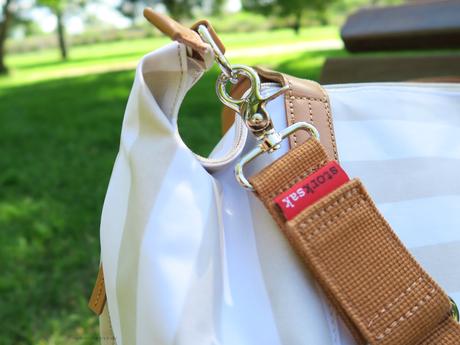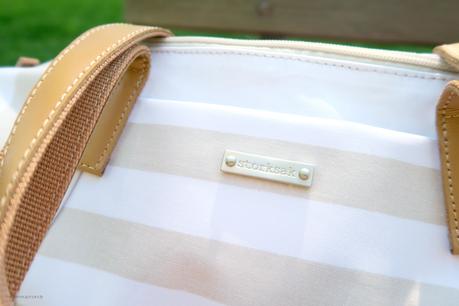 Just as practical as it is gorgeous, this bag is made from premium coated canvas (super easy to wipe clean), wipe-clean linings throughout. I love me a neutral, light coloured bag but of course, dirt and stains are always a concern. I did have a few grubby little fingers on this bag but any stains always wiped off easily.
One of the highlights of this bag is its mini organizer bag with five pockets and an internal compartment. Don't underestimate this 'mini' bag. It is so versatile and can store so many items. I store bub's spare clothes and diapers and wipes in there so they're within easy reach and if I don't want to take along the entire bag, I just get the mini organizer bag and store in the pram basket. Easy peasy.​ Hand sanitizer goes on the outside pocket, and so does other 'urgent' essentials such as baby's dummy or wet wipes.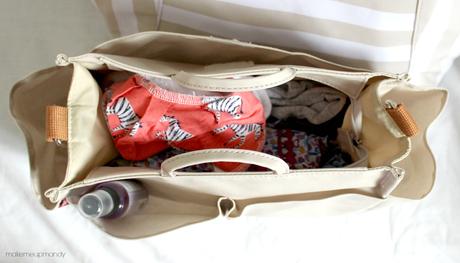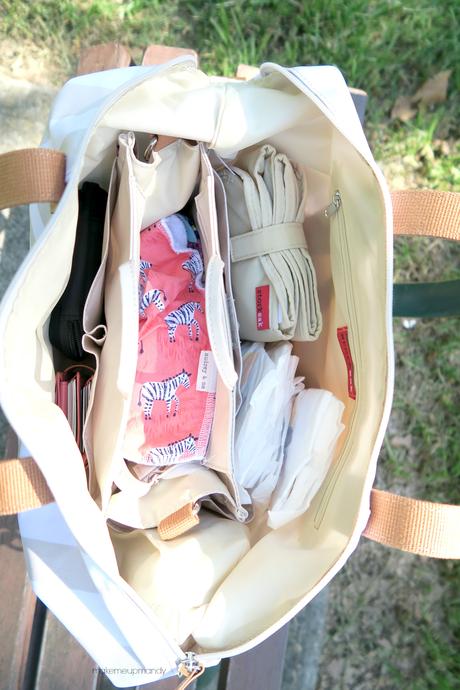 The bag comes with wide long shoulder straps that make it easy and comfortable to carry while the leather handles come with trendy contrast stitching for longer durability and greater strength.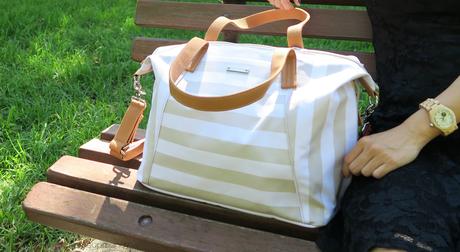 Design
The neutral shades of this Storksak Noa is a favorite of mine. It really does go with everything - from summer dresses to a smart casual jeans outfit. And again, huge love for ​the leather details and silver hardware. It'd be a real challenge finding a bag with such gorgeous details at an affordable price point.
Discount Code For Storksak
Just for my readers - enter MM15 for a 15% discount. In​cy-N are the official distributors of Storksak diaper bags in Australia and New Zealand. The Storksak Noa bag retails for $149.99. Choose from a variety of other designs (Light tan, black, navy etc)
More Details
Dimensions: 14H x 19W x 8D inches
Handle Drop: 8 inches
Strap Length: 33-49 inches​
*This product has been provided for the purpose of this review. However, my opinions are genuine and uninfluenced. For more info, see my Disclosure Policy.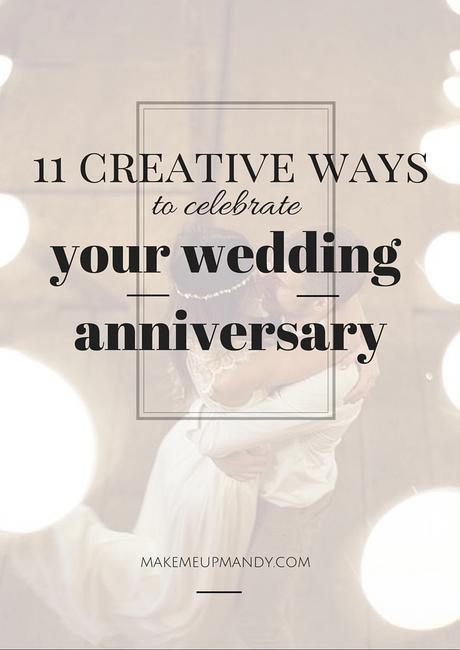 - Download Now -
'11 Creative Ways To Celebrate Your Wedding Anniversary'
---
Just enter your details to get your free copy!