Weight loss is one of those strange paradoxes in life. We are all ok with the fact that it took years of mistreating our bodies to add on all those pounds, but somehow we want to decide to lose weight, change one small part of our lives, and then watch the pounds melt off like last years snow fall. Unfortunately, unless your smoking meth, thats just not going to happen. It takes a lot of strength, work, and support from a community to make a change in your lifestyle, and that 's what the 90-Day Challenge is all about. Sometimes though, 90-Days feels like a really long time. So to make things easier and have a little fun Lauren and I set some mini-goals for Week 7 of the 90-Day Challenge. Read on to see how we did.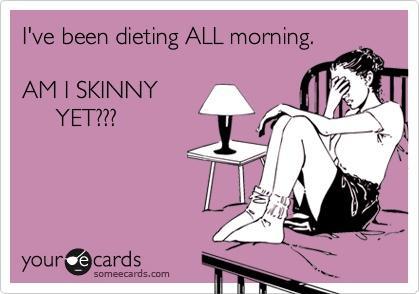 Lauren's Week 7 Update – Mini Goals – Because everything is better in miniature size
I am rocking the 7th week of my 90 Day Challenge. I have found that my goal of 30 lbs is looming closer and closer. I am half way through my challenge and I am also half way to my goal. I feel great, but gauging the weight lost is becoming a little frustrating. I need to find a new way to motivate myself.
How do you find ways to continuously be more and more motivated??? Mini Goals!!! I started creating mini goals this week. Ken thought this was such a fabulous (yet simple) idea. I made the goal of hitting 170 by the end of my 7th week. I weighed in this morning at 170.5, half a pound away from my goal. Now I know I need to eat a little better and work out a little harder next week and I will get to my next goal with ease. Looking forward to Week 8 and pulverizing my next goal!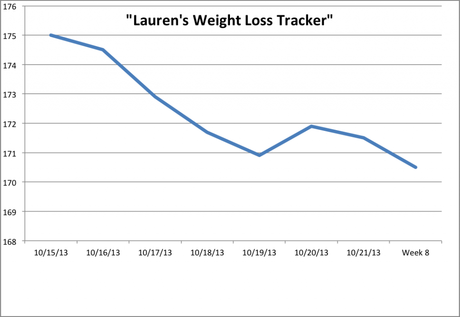 Kenin's Week 7 – Can I Get a HIIT, HIIT?
Coming from the world of sales, I'm pretty familiar with both short term and long term goal setting. I know that when I started the 90-Day Challenge I wanted to lose 30 pounds (considering I'm about to hit that point at 45 days I'll have to review). Honestly though that's a really vague goal. While it's specific, and time bound, it leaves out one of the key items in any goal setting scheme, Action! So when Lauren threw down the idea of a mini goal for this week, I was all over it. I started the week at 279.5 so my goal was pretty lofty, I wanted to get under 275.
Now that I knew what I wanted to strive for, I had to focus on the how. Step 1 was eating right. Even though the 90-Day Challenge replaces 2 meals a day (more info here) I still do a lot of eating. So I planned out 2 snacks a day that were 100 calories each, and then we planned our meals for the week. We would eat only proteins and veggies with minimal carbs. Then I cheated, seriously. I'm not super proud of it, but I gotta be honest. We had some friends in town, and we went out to eat. I had some beer, and a chipped beef omelet with home fries. Oh yeah, and another day, I went out for B-Dubs Chicken Wings.
When things like that are bound to happen you can only fall back on one salvation. Exercise! We've been working on this HIIT workout program now for about 4 weeks and have really been enjoying it. Honestly though, some parts of it are really hard. So hard I can't always keep up, so I fall back to their modifier that's doing a lower intensity work out. I set a goal to keep up with the main video for all my workouts this week! It was hard work, but I mostly did it. I actually did a full and proper plank, burpee, and countless other moves for the first time in over 10 years. I truly think that the HIIT component of my goal is what allowed me to not only reach my goal but CRUSH IT! That's right I finished the week at 274.0 pounds. I lost 5.5 more pounds in week 7 of the challenge!!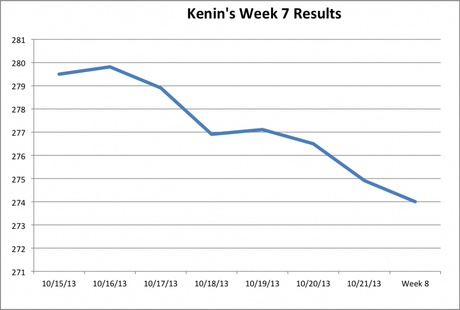 Week 7 Weight Loss Update Progress Report
Weight at Beginning of 90-Day Challenge – 185 lbs / 300.5 lbs
Weight as of this writing – 170.5 / 274
Total loss =   14.4 / 26.2 
Exercise – 6 Days of HIIT Training, 1 day of rest
If you are looking to start your own journey along the road to fit, Email Us, or leave a comment below and we can give you more information on this great weight loss program we've been a part of.
You can also subscribe by email for updates in your inbox or connect with us on any of these social media sites: Facebook, twitter, Google+, Pinterest, and Instagram