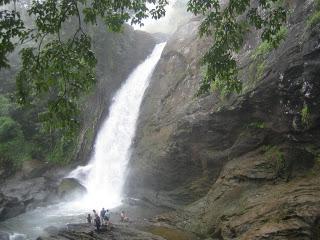 The name Wayanad is derived from the term Vayal Nadu, where Vayal means Paddy field and Nadu means the land, relating it to be a land of paddy fields. Wayanad is exceedingly gorgeous with the place featuring mist clad mountains, deep forests and fertile green plantations.
 The forests of this striking place are cosmic landmasses for animals to enjoy their natural abode. Nestled among the Western Ghats Mountains, Wayanad is one of the most attractive hill stations of Kerala.
Wayanad is a land of rolling hills, dense forests, charming lakes, rivers and folklore, which attracts tourism.  Quaint Wayanad is determined to utilise this immense potential, to find a place in quality itineraries.
The tourism Department is scheduling a range of projects, which is estimated at Rs 17 crore, to strengthen the district's place on the tourism map.
Among the projects of the current financial year are the first phase of the Karapuzha tourism project, the "En Ooru" (My Hamlet) project at Lakkidi, building of the Mananthavady town square and the second phase of the Sulthan Bathery town square, development of the Karalad Lake as an adventure tourism spot, renovation of the Pookode lake, the Kabani Theeram project and the Manichira and the Kambamala projects, and restructuring of the Edakkal caves.
The first stage of the Karapuzha project was launched under the direction of the Kerala Irrigation Infrastructure Development Corporation (KIIDC) at a cost of Rs 4.92 crore recently. 
Tourism Deputy Director N. Anithakumari says that the project is likely to be constituted by the end of March. P. Anilkumar, Managing Director, KIIDCC, says that the project features setting up of a garden similar to the Brindavan Gardens in Mysore on four hectares of land, a tourism service centre, a walkway, a parking area and a souvenir and spices stall, apart from landscaping and electrification of the banks of the Karapuzha lake. The Tourism Department sources said that a master plan of Rs 150 crore has been submitted to the Union government.