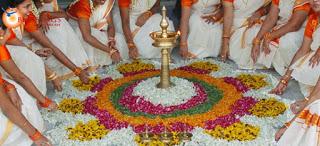 South India is a totally different world in itself when it comes to culture, traditions and
festivals. With a rich history and cultural heritage, the southern part of India is intriguing, amazing and appealing. The states of Tamil Nadu, Kerala, and Karnataka etc are similar in many aspects as well as different in many. Among these states, Kerala is one of the most beautiful places on earth. 
Rich in history, culture, tradition and natural beauty, this gorgeous state is a delight for many people who understand the value of aesthetics. Among the many appealing features of Kerala are its pristine beaches, pleasant hill stations, gorgeous back waters, adventurous national parks, its rich culture and history etc. 
Besides this, Kerala is also home to some of the grandest and magnificent festivals celebrated anywhere. Its tradition and culture is so rich that you will experience something different and enriching whichever part of the state you go. Among the many interesting festivals of Kerala, Onam festival is one of the most popular and important festival of its people.
Onam festival is celebrated in the Malayalam month of Chingam, which falls roughly within the months of August and September. It is mainly celebrated to observe the homecoming of king Mahabali who was a very popular king of the region in the ancient days. Since this is the biggest festival of the state, it is celebrated with much grandeur and spreads across 10 days. 
During this time you will be able to witness the best of Kerala's culture and tradition. The beautifully decorated flower rangoli called Pookalam, ambrosial Onasadya, Kathakali dance performances, which is a major dance form of Kerala and the world famous snake boat races, for which people come from different corners of the world.
 It is basically a harvest festivals where people come together to celebrate all the hard work they have put in the whole year and reap the benefits. It is celebrated with friends and family in a happy and joyful manner. 
They play many games like Kutu Kutu, Kayyankali, Onakalikal etc and cook tasty and delicious dishes like Avial, Banana halwa, idli, Palada Pradhaman and other popular malayali and south Indian dishes. During this festival the entire state erupts in celebration, irrespective of religion, caste, class etc.
During this festival people wear their traditional clothes called onakkodi, perform their traditional dances and cook their regional dishes which consist of rice and other dishes served on banana leaves. 
It is a very ancient festival deeply rooted in customs, traditions and legend and has stood the test of time and modernity. Even today it is celebrated with same enthusiasm, customs and traditions as it was celebrated hundreds of years ago. 
This festival holds great regard in the lives of the Malayalis, who are the natives of Kerala. It is a great way of showcasing their culture and tradition to the rest of the people. No matter which part of the world or country they are in they still celebrate this festival with equal grandeur and enthusiasm.